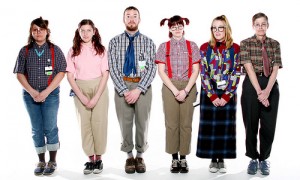 It's chic to be geek.
Just look at our culture.
Freaks and Geeks (Ok, so it's 10 years old, but it was pretty damn funny. OK, at least I thought it was funny.)
"The Geek Girls" (a small agency in MSP founded by Nancy Lyons and Meghan Wilker).
Hell, my friend Tony Saucier and his wife had an online debate last week to determine who was "geekier" (is that even a word?).
Point is, what was once a derogatory term is now used affectionately and liberally online. Like I said, it's cool to be a geek.
So, if geek is the new black, how do we determine who's a geek and who isn't? How do you get "geek cred?" Wait, better question: What IS "geek cred?"
Let's start there. Answer these simple questions to see where you stand on the overall social media geek-o-meter:
* Do you know what HTML stands for? (Know the acronym and you'll have 5 points)
* What the hell is API? (Define it and you'll earn 3 points)
* How many social media monitoring tools can you name? (1-3=3 points; 3-5=5 points; over 5=7 points)
* Do you often find yourself Skyping instead of calling friends/colleagues (If yes, 5 points please)
* Do you watch the majority of your TV on Hulu? (If you're like me and you watch Arrested Development reruns on Hulu, you can have 5 points)
* How many apps do you have for your iPhone? (1-50=3 points; 51-100=5 points; 100 or more=7 points; sadly, I will take a big fat goose egg here)
* Do you know who Marc Andreessen is? (7 points)
* How many electronic mobile devices do you own? (1-3=3 points; 4-6=5 points; 7 or more=7 points)
* Do you regularly attend a WordPress user group? (If yes=5 points)
* If you earned a $3,000 bonus at work, would you: A) Put a down payment on a new car; B) Throw it in the bank, or C) Run out and purchase a new, fully-loaded MacBook Pro? (Clearly, no points awarded for first two; 3 points for "C")
So, what's your "geek cred":
King of all Geeks (The Lewis Skolnik Category): 45-54 points
Go out and buy a pocket protector–NOW! (The Rick Moranis Category): 36-44 points
Sleek, but not geek (The Tron Category): Less than 36 points
Note: Photo credit of ame3505 and FlickR Creative Commons