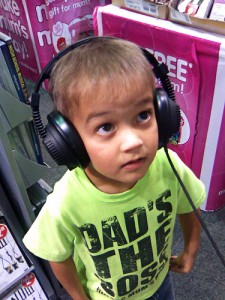 Listening. It's a mantra we've heard PR, marketing and social media consultants preach to brands for the last two years. But, how many brands are really listening to their customers online?
I'm not talking about responding to comments on Facebook or Twitter. That's fine, but at this point, it's table stakes, don't you think?
I'm talking about "active listening" as my wife likes to say 🙂 I'm talking about brands who have the right tools in place to do the actual listening–and are taking it to the next level by not just responding, but finding ways to rope those customers actively into the brand.
Let me give you a few examples so you get the gist of what I'm talking about: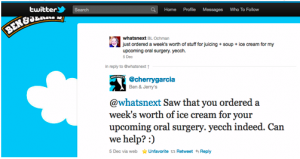 * Ben & Jerry's. OK, so everyone knows about Ben & Jerry's right? They made a lot of noise earlier this year when they announced they were getting rid of their email program and moving to a social communication system with their customers. But, a recent example that demonstrated to me that Ben & Jerry's is actively listening to their customer was this post from BL Ochman. Check out the timeline here and how B&J's reacted. Not only online–but offline, too, with a very personal touch. It's not rocket science–it's customer service, to the nth degree.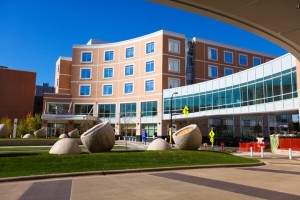 * Children's Hospitals. A client of mine (Aveus) recently wrote a post about my experience at a Children's facility earlier this year (my daughter had dental surgery). To summarize, the post talked about how Children's had nailed it from a customer experience point of view (an area of expertise for Aveus, just to be clear). We've taken our kids to Children's facilities across the metro numerous times and every time we're impressed by the care–but more importantly, we're blown away by the "experience" at their hospitals and clinics. A couple days after my client's post, the Children's folks sent me a note thanking me for the kind words and asking me if I'd like to come in for a tour of the new Children's Hospital in St. Paul (the note also asked if I'd consider sharing my story on their Web site). After an enthusiastic "yes", I took the tour last week and was amazed at some of the new ways Children's is catering to sick kids and their parents (they now have a Geek Squad right in the Minneapolis Hospital targeted at helping improve the digital experience during your stay). We talked about health care (I come from a health care background, to an extent). We talked about marketing. It was fantastic. And, now I'm writing this post. And, I'm thinking about ways I can give back to Children's. And, I'll tell anyone who will listen how great their hospitals and clinics have been for our family. By finding ways to continuing to engage me, they've cultivated a brand ambassador for their brand. That's how smart brands win.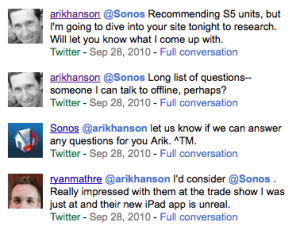 * Sonos. In case you haven't heard of Sonos, they're a brand that sells wireless speaker and music systems. It's a brilliant concept and I plan to purchase a system very soon. I started asking about wireless music systems on Twitter a few months ago. Sonos rep, Thomas Meyer (TM in the note to the left), quickly jumped in and offered to help. While I haven't actually bought a system yet, Thomas continues to send me emails and offering to help (and giving me exclusive access to new products as they emerge). Smart. He knows I'm in the market. He knows I like the product. He's just helping facilitate that purchase (and not surprisingly, this isn't the first time).
What about you? What brands do you see out their actively listening–and winning?
Note: Photo at top courtesy of Nagawi via FlickR Creative Commons.