Let's face it: Most brands suck when it comes to customer experience.
I'm sorry–it's just a fact of life.
Sadly, examples like Nordstrom and Starbucks are more the exception than the rule.
But, one "customer experience" continues to blow me away year after year: The experience of attending a Kansas Jayhawk basketball game at Phog Allen Fieldhouse.
If more brands thought through their customer experience the way the Jayhawks do, and paid attention to details in #RockChalk form, we'd see a lot more happy customers!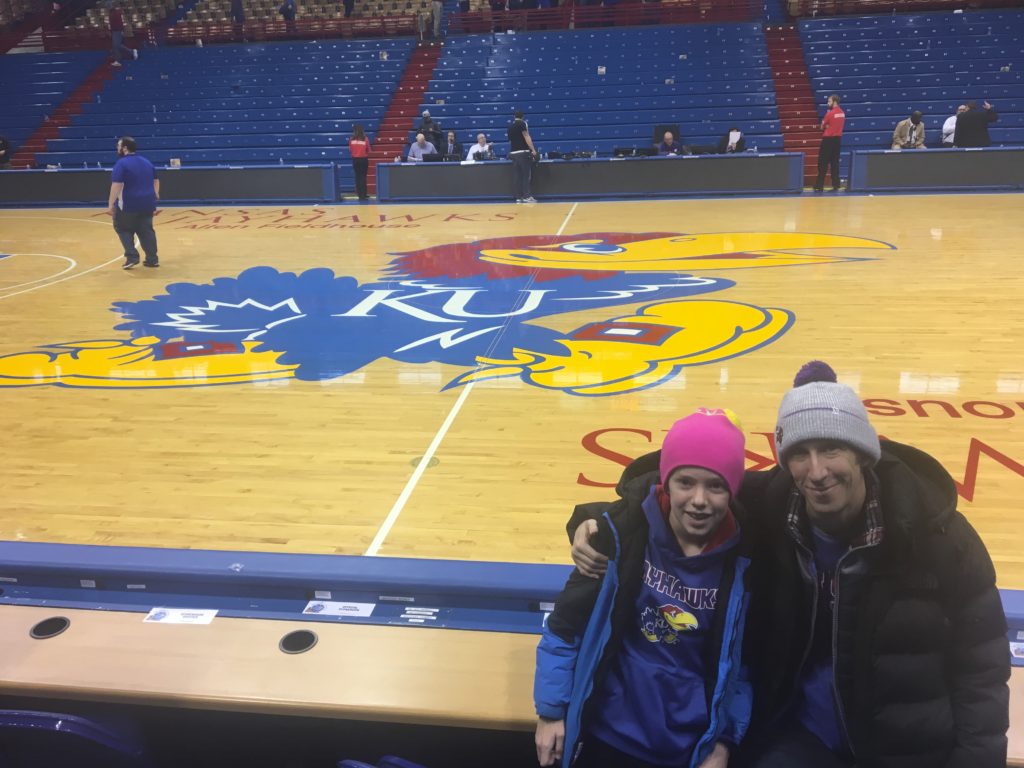 Now, I just made the trip to Lawrence last weekend, so the experience is still fresh in my mind (see pic above of my son and I courtside). I take my son (and hopefully daughter someday) to a KU game each year–it's a Christmas gift from my wife. It's an annual tradition now. And, it's one of my favorite days of the year.
What makes the trip so great for me is one part journey (I went to school at KU for a year and still regret leaving to this day), one part basketball (um, our team has won 13 Big 12 titles IN A ROW!), and one part experience.
And it's that last part I want to talk more about today, because it's freaking unbelievable. Anyone who's been to a game at the Phog will tell you the same thing (see pic below for a glimpse from our seats in the student section).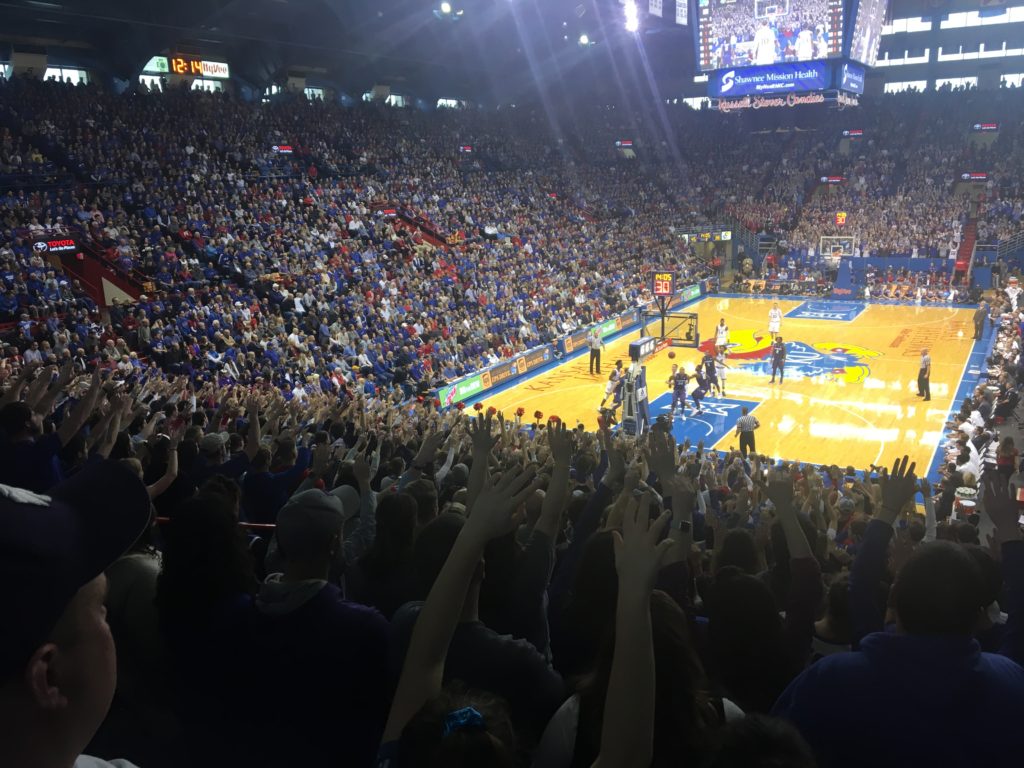 But, it's not unbelievable just because the Phog usually houses a top 10 team in the country. It's special because of the EXPERIENCE.
What am I talking about?
Traditions are everything at The Phog–and they can be for brands, too.
My favorite part of every Jayhawk game at The Phog is the 45 minutes leading up to the game. That's about the time the band starts playing–and they always start with this medley (even though this doesn't include the best song they play, which is Earth Wind & Fire's "Into the Stone"):
About 5 minutes before the game, they start with the hardcore traditions. After the anthem (usually sung by a third-party), the band plays alma mater, I'm a Jayhawk and Fighting Jayhawk (my favorite).
This then leads into starting lineups, when another tradition (holding newspapers up while the other team's starting five is announced) begins. Finally, KU's starting five is announced, the place erupts and it's an absolute frenzy until the ball is tipped. And when I say frenzy, I mean 120-decibel-loud frenzy.
When it makes sense, brands can and should embrace traditions, too. Consider Lego. They have a store at the Mall of America–right down the road from me. And, in the storefront, they feature a series of Lego logos–from their inception to today. What a great way to enhance the experience of visiting that store while embracing their heritage.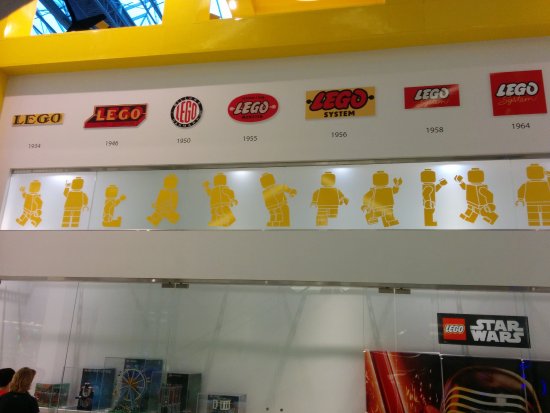 OWN your (team or corporate) colors
I have a photo on my desk that's a panoramic view of The Phog. It's one of my favorite pieces of art in the house. And, in it, you'll notice that EVERY person in the crowd of 15,000+ people is wearing either royal blue or red. When you attend a game at The Phog, you notice EVERY person is wearing some kind of Jayhawk gear. I'm not exaggerating when I say that either. And, you see plenty of blue and red when you visit The Phog–from the rafters to the scoreboard to the huge Jayhawk on the court. The whole day is blue and red when you go to a game at The Phog. For brands, owning your color should mean much more than just your logo. What about owning your colors more often in social content? What about owning your colors at events? What about owning your colors in digital advertising? One great example here: the Home Depot. HD absolutely owns the color orange in all of its online endeavors. Just take a peek at its Facebook page or Careers Facebook page. That orange is front-and-center in almost every post.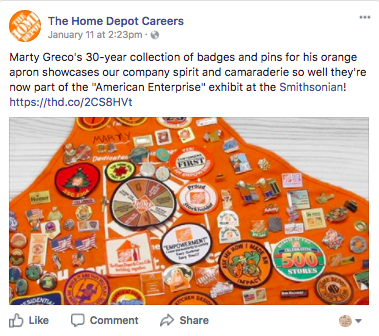 Not everything needs to be about the millennials
One thing I absolutely LOVE about the KU games at the Phog? The band plays. A LOT. Here's my favorite sequence, which typically happens right after a big KU win.
That doesn't happen at some other college basketball venues anymore–notably, at Williams Arena on the U of M campus–much to my chagrin. At the U, you get a steady dose of very loud rap and hip-hop music during the game–and very little band. The rationale (according to some): They're not targeting me (middle-aged people who buy all the tickets)–it's all about the millennials. But, at KU, I see the opposite. I see a university that's embracing both sides. They appease the younger set by working in the loud hip-hop music during some timeouts, and in shoot-around an hour-plus before the game. They appease the Xers and Boomers by allowing the band to play liberally-something both those groups are bound to enjoy. I often think brands get far too consumed with the millennial mindset when it comes to experience. Yes, millennials are a big subset of the population. Yes, they have big purchasing power. But, they're not the only audience–not by a long shot. Don't forget to appeal to those other demographics.