Not sure if you heard, but Target Field hosted a small football game last month. Truth be told, it was a very BIG football game–both in terms of the matchup, and size of the crowd in attendance.
The St. Thomas/St. John rivalry has been around for decades, but when they played at Target Field on Sept.23, both were ranked in the top 20. And, 37,000+ people were on hand to see it–making that game the biggest D-3 football game in history.
Yeah, it was a pretty big deal.
So then I got curious. I wonder how these schools "covered" this game from a news, storytelling and social media perspective. I wonder if they did anything at all.
And then I met Kate Metzger. Kate is the senior social media strategist at the University of St. Thomas. And, she, along with a number of others on her team and within the Athletic Department at UST, were behind the images and stories we saw on game day.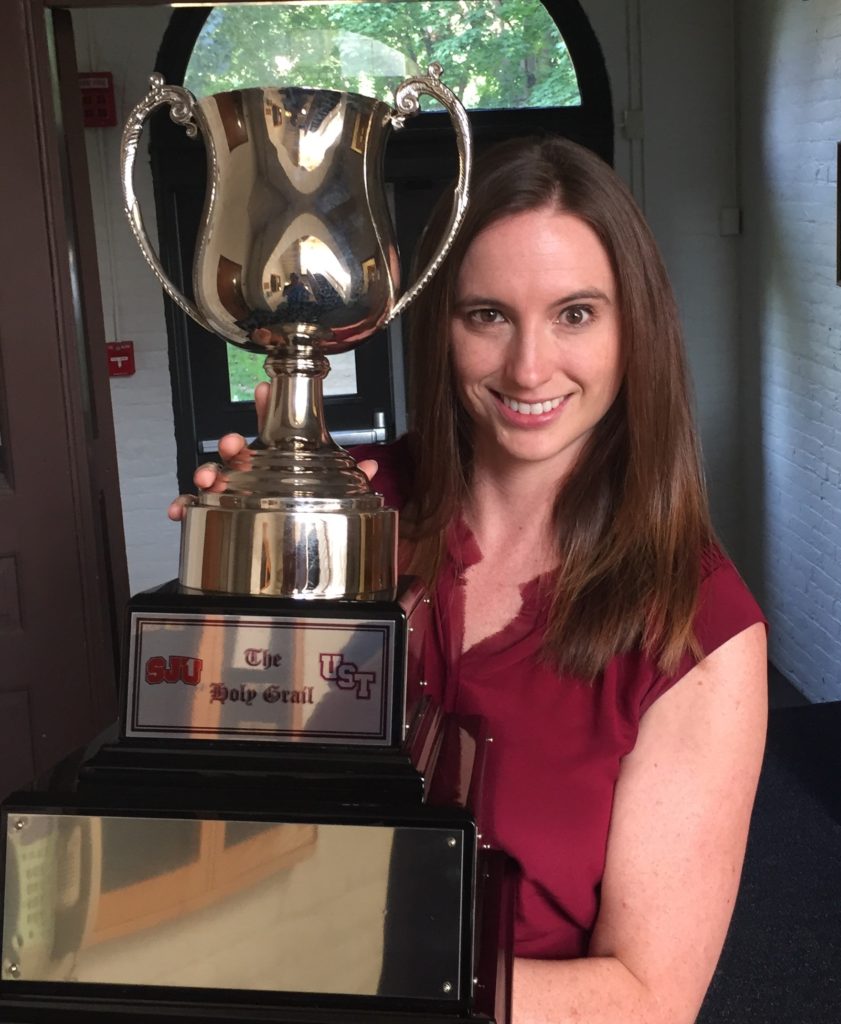 I grabbed coffee with Kate a couple weeks ago to talk about the game and how they approached it from a storytelling and social media perspective.
What went into getting your team ready to cover the Tommie/Johnnie game on Sept. 23?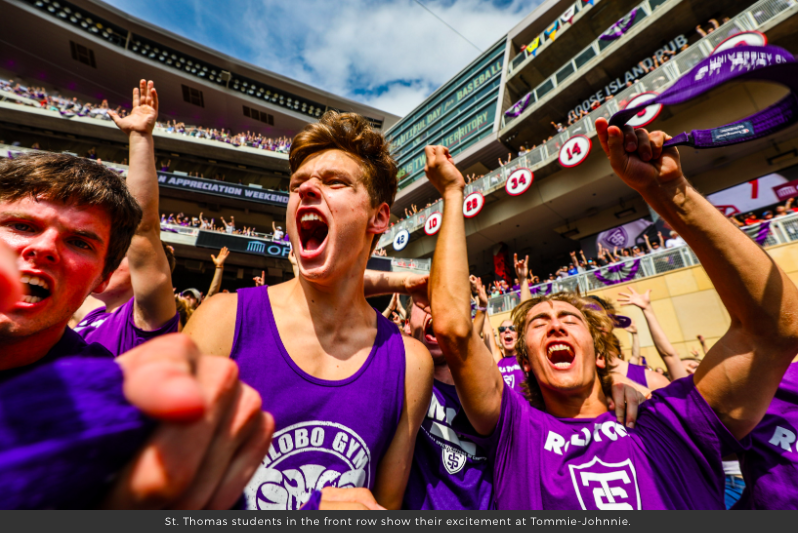 The Tommie-Johnnie football game is one of those traditions at St. Thomas that people are emotionally attached to. We know from previous years that the game can be one of the biggest social media moments of the year. And obviously, playing at Target Field offered up a special situation that we wanted to make the most of. We started planning for the game last October when it was announced. And, we got things started by conducting a Facebook Live right from the press conference at home plate.
Our process for game day is one that we use for most major events at St. Thomas. Our photographers took photos throughout the day and as they were taking them they were automatically uploading them to Dropbox so I could use them in social posts and on our site. For us, it was great to walk around the stadium and just talk to fans about what they're excited about and capture photography that helped tell the story. So really, a lot of it was just walking around Target Field capturing photos and captions and quotes as it happened. We also crowd-sourced some of our content that was shared on Instagram and Snapchat.
I also ran our primary institutional channels where we focused on game day experience and atmosphere. We also have a social media manager in athletics who focused mainly on game updates. We re-posted and shared each other's content.
You had the recap post up the same day as the game–can you talk a little about your process for pulling that off so swiftly?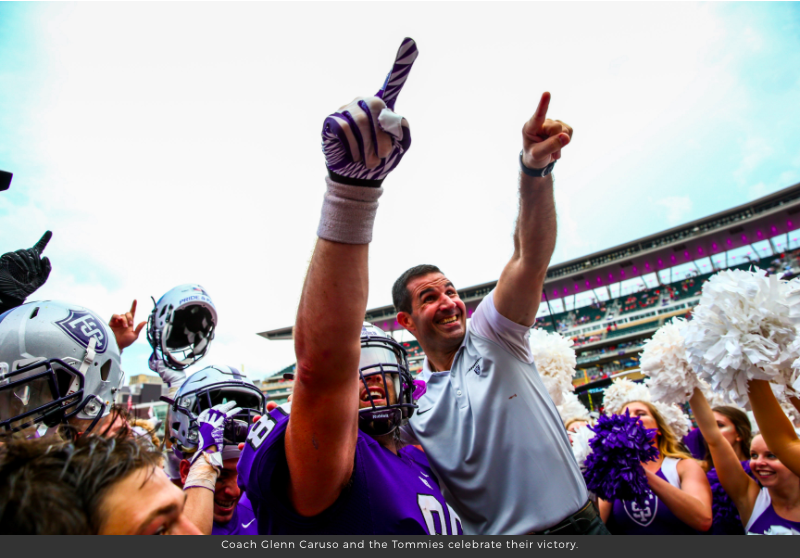 Our Newsroom editor Jordan Osterman spent time before the game talking to fans at the pre-parties and on Target Plaza. He and I were able to work from the press box during the game as well (I was also on the field for a bit). I was managing our social media channels, while Jordan was writing the story you mentioned. We were right there hanging with the media reporters from the big newspapers and publications in the Twin Cities. The story went live within minutes of the end of the game.
You had some outstanding photography on that post as well. How do you resource that?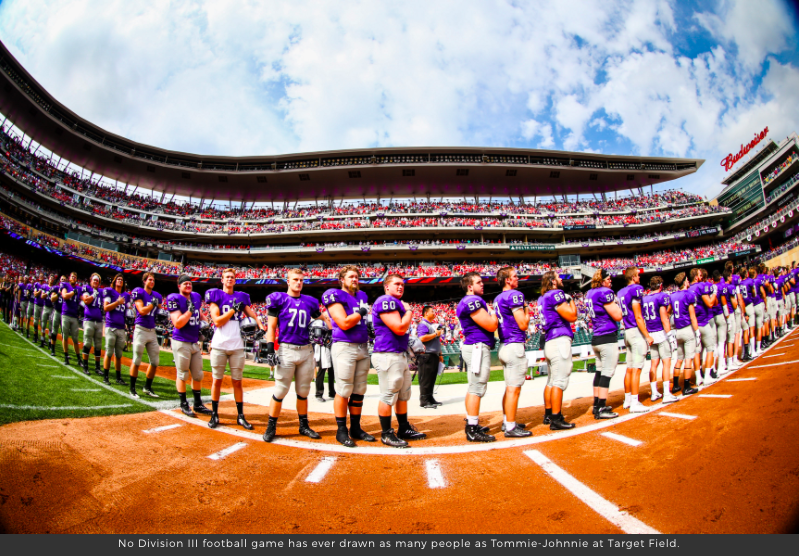 We are really lucky to have two full-time photographers on staff at the University of St. Thomas. One was on the field during the game. The other was roaming the plaza and concourses getting photos of the "fan experience." We picked the best photos to use for social and our site in real time. By the time the game was over, we had more than 150 shots to choose from.
I heard the game had more than 2 million uses of #tojo17 on Twitter alone–wow! And, I also hear you have an interesting story behind that. Do tell.
Check out the sights and sounds from #TOJO17 at Target Field, including YOUR tweets and instagrams! https://t.co/eKVKLaEE1d pic.twitter.com/sblWWgWw84

— Univ. of St. Thomas (@UofStThomasMN) September 25, 2017
Yep–that is an interesting story! Historically, #tommiejohnnie had been the hash tag for the game. But it always seemed a little too long. And really, since I was going to be using it a lot more with the special circumstances this year, I didn't want to be typing it out every three seconds. Last fall, I noticed many of the high schools in the area were using "hoco" and using a #hoco hash tag for their homecoming activities. So, I came up with "#TOJO17." We started using it at the 2016 press conference at Target Field–and, it really took off.  In fact, we had 2.9 impressions of people using that hash tag on Twitter and Facebook. And people are actually calling the game "ToJo" now! 
My full circle moment came at the beginning of the game when I saw a hashtag on the Target Field scoreboard!
Your most popular Instagram post to date also occurred during the game–and it was a pretty simple shot! What do you attribute that success to with such a straight-forward pic?
Yes–our most popular Instagram post EVER was the shot of our St. Thomas athletics logo on Target Field, which now has more than 1,700 likes and 14,200 impressions. (we have about 8,000 Instagram followers, for context)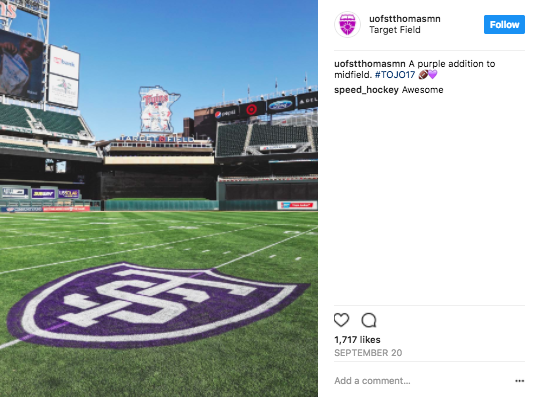 This post went live when the hype and anticipation for the game was peaking. At that point, the Minnesota Twins had begun sharing some really cool content on their social channels, as well. The media had begun regularly talking about game preparations and our fans were pumped. Prior to the stadium being set up for football, the whole idea was sort of theoretical. This photo made it real.
I also think we benefitted from the love our community has for the Twins. They are an institution. Showing both logos really highlighted the partnership that made this all possible.
Corporate newsrooms are often very dated, and not very well done (in this blogger's opinion). Yet, your newsroom, the newsroom of a private academic institution, is one of the better ones I've seen. How is that possible? How did you go about building your newsroom?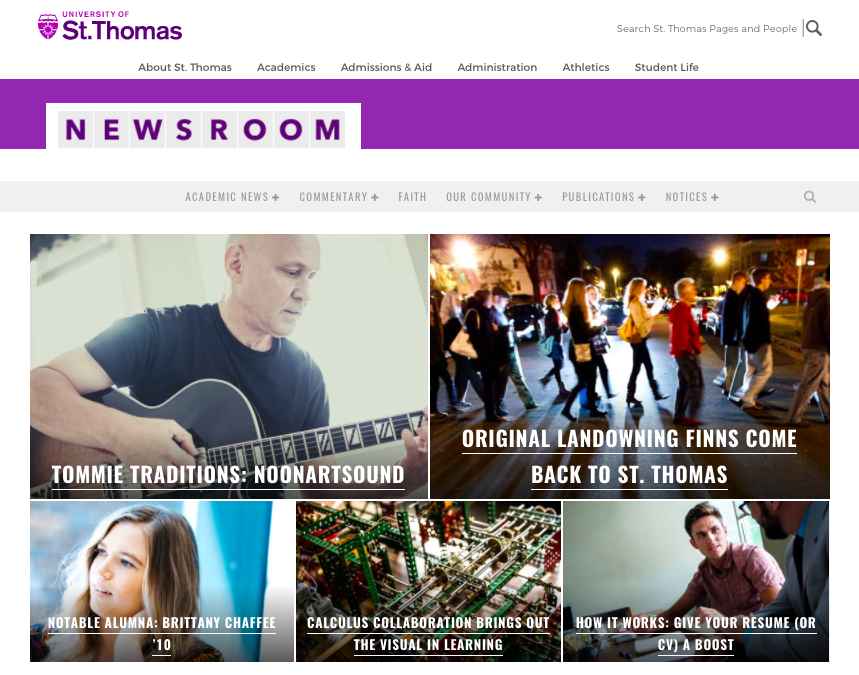 For longest time, we had a basic news site and daily newsletter called Bulletin Today. It was, essentially, an internal newspaper for the University of St. Thomas. It was great for internal announcements and employees loved it, but we were starting to lose traction with students. We also knew we needed to do a better job highlighting the storytelling work we were doing. So, we decided to combine the Bulletin with our magazines and showcase more of our wonderful photography. We eliminated the bulk of the internal announcements we were writing and re-focused our efforts on writing feature stories and collaborating with our photography and video staff. A new multimedia hub was born. And, that evolved into the current version of our newsroom. It's now really a destination for storytelling. We have a team of writers and editors. It's all run on WordPress using a customized template.
What's next from a social media perspective for you and the University of St. Thomas?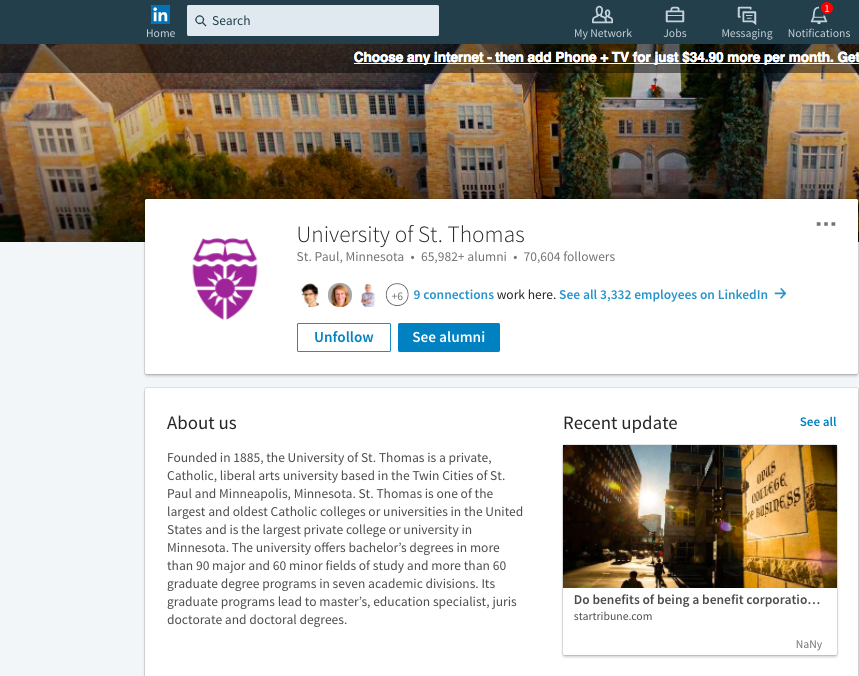 We're looking at LinkedIn a lot more. We went from 15,000 followers to 75,000 followers essentially overnight when we were automatically updated to a company page from the now-defunct university page format. This is an area where we're really growing–and I see that continuing in the year ahead. We're also putting a greater emphasis on video, especially live video. This year for commencement, we partnered with our live streaming vendor to broadcast our two ceremonies on Facebook Live. It resulted in a reach of nearly 2 million. With organic reach continuing to go down on traditional posts, live video is becoming more of a priority.