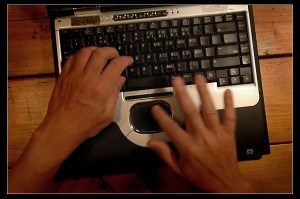 Many posts have been written about best practices in the blogger relations arena. A few of my favorites were penned by Dave Fleet, social media strategist with Thornley Fallis and Brian Solis, principal of FutureWorks.
But this post is about something a little more specific: relationships.
The issue I think most of us in the PR/social media space may run into in the coming months/years is simple: Do we leverage our relationships with key bloggers online to the benefit of our clients? Do we put that trust at risk?
It's not as simple as you might think.
Here's the conundrum. For example, like many who may read this blog, I have relationships with many key PR bloggers across the country. David Mullen, Beth Harte, Shonali Burke, Rachel Kay and Dave Fleet to name a few. These folks are not only PR colleagues, they're good friends. 
If and when a client has a need for a blogger relations campaign that targets PR pros/marketers, do I use that trust and goodwill I've built up with these folks over the months/years to the benefit of my clients and their interests? 
Some will say blogger relations is just like media relations. I beg to differ. Journalists have a job to do. They get paid for their work (although I know a few bloggers do get paid). They work with editors. They have assignments. They have a strict code of ethics. 
On the other hand, bloggers are every day folks (not that journalists aren't, it's just a little different). They write about whatever the heck they want. They don't have "bosses." They're people we know. And, most importantly, they're often PR colleagues, and friends. 
Much different, wouldn't you say?
Maybe this example is too specific–after all, we're only talking about PR blogs here. But, what if we're talking about Mommy bloggers? Isn't the idea to establish relationships with the bloggers before pitching them? Building trust by posting comments and interacting with them online? Wouldn't that lead to the same situation?
I know a big part of blogger relations is building relationships. But, in building those relationships, do we put them at risk when we get around to actually making the pitch?
If you work at an agency or you're a solo practitioner, how are you handling this issue? Do you take advantage of the online relationships you've built? 
I'm curious to hear your thoughts.