Something I've been thinking about a lot lately: Are we over-relying on media relations in PR?
I'm talking about the broader scope of PR here–media relations, content marketing, social media marketing, community relations, etc.
For many years, media relations has been one of the core aspects of PR.
But, a number of stats and reports lately (not to mention consumer behavior trends in general) have got me thinking: We may be well past the tipping point.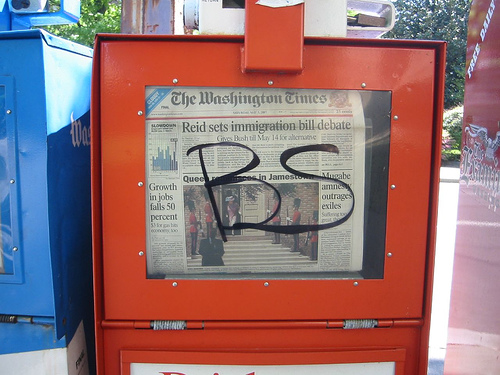 Consider the following:
Investments in content marketing continue to rise. CMOs say content marketing is making up their biggest increase in budgets this year at 13 percent.
Content partnerships with major media outlets are taking off. Think Netflix + The Wall Street Journal (and a bunch of others here)
Social media marketing is not slowing down. According to eMarketers, social media ad spend will quadruple by 2017. Ad numbers like this don't tell the whole story, but it is an indicator of how brands are using their time and budgets.
Meanwhile, print circulation numbers among the nation's largest newspapers are plummeting. Just give this shocking post a read. In fact, if these numbers are accurate, the USA Today went from a print pub circ of 1,424,000 in 2013 to just 299,000 in 2015. Wow. 
I'm not implying that mass media outlets like the USA Today and New York Times are going to die–definitely not true. And, as an active citizen, I sincerely hope that's not true.
But, from a PR perspective, it does make me think differently about our historically substantial focus on traditional media outreach. Generally, I think we still may be putting too many eggs in the media outreach basket, and not enough eggs in those other buckets mentioned above.
Let's think this through. Media outreach, at its core, has always been about communicating a message to a key audience, right? And, years ago, one of the best ways to do that was through mainstream media–because they were the biggest, and in some cases, very trusted, vehicles around.
Flash forward to 2016: Media reach is shrinking (traditionally). Consumer behaviors are shifting–especially around who they trust and listen to when making purchasing decisions (see: recent influencer outreach studies). And people have many more vehicles to get information each day than they did, even just 10 years ago.
That's not exactly a recipe for sinking more money into media outreach.
Also, consider these facts:
Social advertising options now make it uber-easy to make sure our EXACT target sees and consumes our messages–unlike mass media, where there can be significant audience "waste."
Content marketing gives brands the message control they craved for years (no more working through impartial media members to share your message).
And, tools like 360 video and virtual reality are on the doorstep of taking that storytelling capacity for brands to a level we've never seen before.
I can't help it. I keep wincing after every sentence I write. The more I think about this, the more I think we still are over-relying on media outreach. And, it might just be time to open our eyes to the harsh reality. Media relations is (or should be) a smaller part of our job now than it's ever been before.
Think about that for a minute, and get back to me with your thoughts.
photo credit: "BS" on newspaper box via photopin (license)