About a month ago, I read an article over on MarketingProfs about the top trends in content marketing hiring.
The big stat the MP folks were promoting in the post was the fact that 54 percent of companies plan to hire content marketers in the year ahead. I guess that's good news for those in the content marketing field.
But, a different stat jumped out at me: 95 percent of respondents said writing/editing was the most important quality they seek in a content marketer.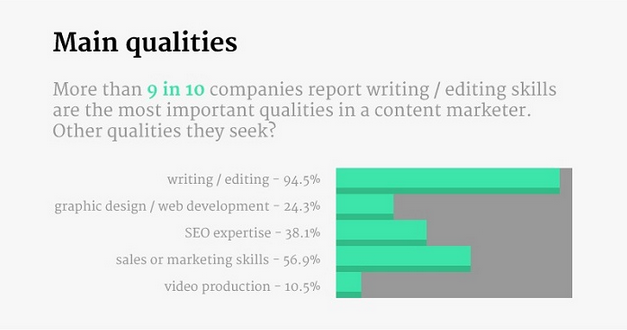 Wait, what's so shocking about that? Isn't good content highly dependent on quality writing?
Sure. But, you know what else is dictating content success on the web today? Visuals.
A shockingly low 24 percent said graphic design or web development skills were the most important quality they sought in a content marketer. And only 11 percent said video production was the most important quality. I didn't even see photography skills pop up on the list.
This–despite the fact that the largest social network in the world is HEAVILY predicated on visuals for content marketing success.
This–despite the fact that one of best platforms for brand engagement right now is Instagram, a platform that's ALL about images.
This–despite the fact that short-form videos are exploding right now, mostly in the form of Instagram Video and to a smaller extent, Vine.
This–despite the fact that infographics are everywhere (maybe *too* everywhere, really).
Visuals DOMINATE social media and digital marketing right now.
Yet, virtually nobody (according tot this study) is looking for people with photography, design or video skills.
Why?
It might be a semantics thing. Maybe when people think "content" they're really thinking about words. And they're assuming there are also creative and design groups to help with the visuals.
Possibly.
Or, it might be that folks are slow to adapt. People still believe–despite what they see each day–that words dominate when it comes to content marketing. Again, just take a spin around the major social networks–most, if not all, are depending more and more on visuals since that's what users are posting and responding to.
Incidentally, this remains a huge opportunity for folks looking to make a name for themselves in the content marketing/PR/social media industry. If you can write AND take photos AND produce videos, well, you can probably write your own ticket at this point. That skill set is extremely tough to find right now. And, truth be told, maybe that's what's behind these stats, too. Maybe people just simply don't even think this kind of "content marketing unicorn" exists yet–therefore, they don't even expect it to.
But, it's coming folks. As our industry matures, companies will expect content marketers to do more with less. That is, they won't have the opportunities they may have not to outsource creative. Or, organizations may ask content marketers to do their own creative, freeing up internal creative teams to handle other, more pressing projects.
Whatever the case, this skill set of writer+visual marketer is the future.
It might be considered a "unicorn" now, but 4-5 years from now, we may be looking back on this post and chuckling…