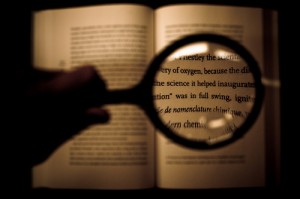 One of the most important pieces of any strategy an organization employs online revolves around content. Without compelling content, you're dead in the water. With it, you can attract new customers, retain existing ones and raise awareness across the marketplace.
Yes, content is the engine that makes most social initiatives go online. And while some of it you certainly need to generate from scratch, there are also places you can look within your organization for existing content. Stories, tidbits and nuggets that you can re-purpose or that will spark new ideas and fresh content of its own.
Where do you look? Here are 10 quick areas to check out:
* External newsletters. Many organizations still produce client/customer newsletters or e-newsletters. And, they can be a prime source of social content. Newsletter articles can also be great story starters. Oftentimes, the story in the newsletter has been edited and cut down–could you take the key nuggets that didn't make the cut and expound on them for a blog post, for instance?
* Community events. Can you uncover unique content at community events you sponsor or organize like parades, seminars and local meet-ups? Content they can't get anywhere else from you? Specifically, I'm thinking of video here. Could you livestream events that a wider audience might benefit from? Capture video interviews with dignitaries, celebrities or other VIPs? Think about your opportunities.
* Internal meetings. You might be surprised where you can pick up the hook for that next blog post. By listening intently in those internal meetings you may just uncover an idea or nugget for a post.
* Annual reports. Hopefully you're working hand-in-hand with the folks that create your annual report. If not, get to know them. These folks are full of customer and staff stories that can be perfect for online storytelling.

* Customer service teams. Just think of the stories your customer service reps have with all of the direct interaction they have with your most important stakeholders. A treasure trove just waiting to be tapped. Sure, they may not be able to talk about most of the personal details, but you can use the themes uncovered from those conversations to develop trend posts and updates.

* Internal newsletters. Oftentimes, the best stories comes from within your organization's four walls. Be sure to check this source often for inspiring staff stories. Specifically, look for stories that can highlight your company's values or what makes your organization unique. Much better than posting those corporate values online, no?

* Advertisements. I'm obviously not talking about posting your broadcast videos to YouTube. No, you'll have to look a little deeper than that. Could you give your customers a behind-the-scenes look at how you put together the ad? Or, maybe you invite your most loyal and avid fans on the set to be involved with the next shoot. There are possibilities here if you think a bit differently.

* Public affairs/legislative reports. You may not be able to (or want to) publish everything in this area (at least as it relates to your organization), but at the very least it could make great fodder for your internal communities and social networks. Bigger point: Don't forget about your internal audiences when thinking about your social content (think breaking down silos here).

* Customer feedback/comment cards. We know one of the most powerful forces when it comes to purchase decisions is word of mouth. Why not facilitate that a bit by re-purposing your comment card feedback/reviews across your existing platforms (with permission, of course)? Or, what about using comment cards/reviews as a door opener to starting online (and offline) relationships with these folks? You might be able to get blog posts and a video interview or two out of the mix.
Note: Photo courtesy of JakeBouma via FlickR Creative Commons.