One of the big lessons I've learned over the last year-and-a-half since this darn pandemic started was just how fortunate I am in my professional life. I've had a successful and growing consulting business for 12 years. I teach at the University of St. Thomas and the University of Minnesota. And I have the chance to work with some wickedly smart–and wonderfully nice–people.
But here's another big piece of this lesson: Just how many advantages I've had as a white male that have made all this possible.
There's no question I've faced far fewer hurdles to success than many minorities in the business world. But, I've also faced fewer hurdles to success than many women in the business world, too. I recognize this, and I've been thinking about what I can do to support the women in our profession. One easy thing: Highlight them here on this blog!
So today I wanted to showcase 8 wonderful women who are making a big impact in the social media world here in Minnesota–for a number of different reasons.
Gabriela Winkels, social media associate manager, Land O Lakes
Gabriela is paving the way for our future by showcasing young talent like the interns she worked with this summer at Land O Lakes. We could all stand to champion our young talent a little more, publicly, here on social media!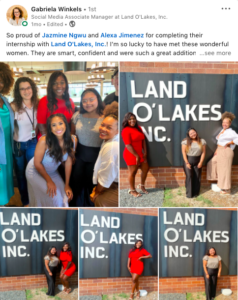 Gabby Grahek, social media strategist, Prime Therapeutics
I've never worked directly with Gabby, but if I were judging from her LinkedIn content, I would say she's most likely crushing it at Prime when it comes to storytelling. Her approach is just right. It's never over-bearing and usually hits all the right notes.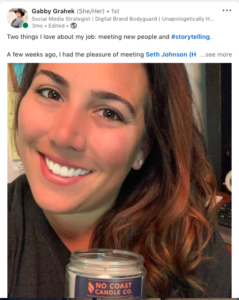 Vishakha Mathur, social media manager, Boston Scientific
One thing I know we need more of: Women leaders speaking at our industry events! So, I was excited to see Vishakha speak at the Digital Marketing Summit in August. I know organizations like PRSA and MIMA have done a good job of this in the past, and I'd love to see that continue in 2022.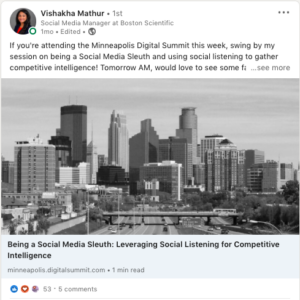 Becca Metcalf, director, executive communications, Medtronic
Becca (and her team) have done a wonderful job with Geoff Martha, CEO of Medtronic, and his social media presence, specifically on LinkedIn. With so many execs now jumping on the platform, Becca seems to have done a stellar job of helping Geoff show up where he needs to the most.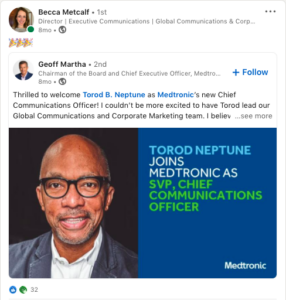 Angela Benson, director of communications, newsroom and social media, United Health Group
As director of comms, newsroom and social media for the biggest insurance company on earth, Angela has a big job. But building a newsroom mentality is just what she's doing–and it seems to be going well so far.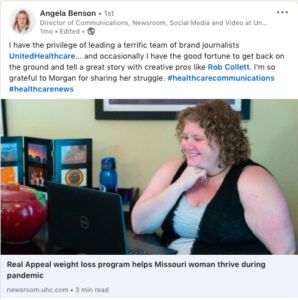 Susan Hagen Garcia, senior social media manager, Public Library of Science
One thing I've appreciated about Susan since I met her a couple years ago, is her mindset of a life-long learner. Not everyone has that. But she seems to cultivate it constantly. I tend to believe that's a key character trait of great leaders, and I think Susan has a very bright future in front of her (she's also speaking at my class at the U this semester!).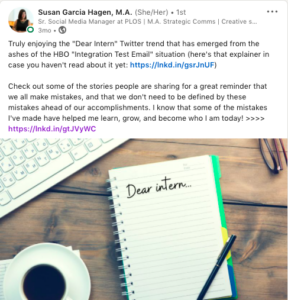 Kristin Zima, senior director, social media marketing, Optum
Kristin may be one of the women in this town that has worked in social media marketing the longest. And, with more than 25 years experience, she's also become a huge champion for social media in corporate America with her current work at Optum.
Gabby Nelson, senior director, global visual, digital and social media communications, Cargill
Gabby has long been a champion for diversity in the workplace–and, for racial justice and diversity in society as well. As a senior leader at Cargill, she has a big platform and voice, too. I'm so glad to see her using it to bring good to our profession–and the world.