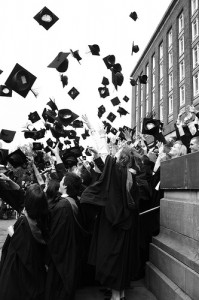 It's that time of year–yes, students everywhere across the country are tossing their caps, graduating and stepping foot into the "real world" of PR this summer.
At the same time, I was reviewing some of the PR people to follow on Twitter lists the other night. Some pretty good ones that still ring true, including Dave Fleet's and David Mullen's "starter pack."
But few (if any) of the existing lists out there focus exclusively on students and recent grads. And, since we just featured students in our recent Help a PR Pro Out (HAPPO) Day event, and I'm a big fan of paying it forward, I thought we'd highlight a number of students and recent grads who are really doing what it takes to get that first job (or, already have that first job) by networking, learning and participating online.
* Mikinzie Stuart (@mikinzie). A recent SHIFT-er (in fact, today's Mikinzie's first day), Mikinzie is a regular participant in #prstudchat, #journchat and a number of other online forums–as well as the author at the PRepguide.
* Josh Morris (@prjoshmorris). A newly-minted University of Alabama graduate, Josh's resume is already littered with internships and student experience at U of A, Josh has clearly taken control of his future. Now, it appears, he's just waiting for the right opportunity.
* Lauren Novo (@lmnovo). As the newest AE at 180 Communications in Tallahassee, Lauren's also an avid blogger. She's also been a strong supporter of other students–especially during the HAPPO events this year, where she's featured a slew of other job-seekers on her blog (she features a new PR job seeker each week).
* Stephanie Florence (@stephanieflo). Stephanie proactively reached out to me and took me up on my Skype challenge earlier this spring. I was instantly a big fan. You can find Stephanie blogging regularly over on the Chicago Publicity Club's site and despite her University of Illinois education, I'm betting she's got a bright future ahead (hey, as a University of Minnesota supporter and Kansas basketball geek, I'm required to say these things).
* Stephanie Majercik (@stephmajercik). This recent Canisius grad has been active an active participant in many chats including the popular #u30pro chat on Thursday nights. And, even though she's not currently blogging, I'm betting it won't be long until we're reading about Stephanie's viewpoints and perspectives online.
* Rachel Esterline (@rachelesterline). A recent Central Michigan University grad, I had the opportunity to meet Rachel briefly last year at the BlogWell event in Minneapolis. And, I'm happy to see Rachel recently signed on with Michigan-based AGC & Associates.
* Allison Janney (@allisonjanney). Yes, that is her real account. And, yes that is her real name. And, yes, she is the real deal. Just ask WCCO superstar, Jason DeRusha (former intern) or the folks over at Exponent (her current employer). Plus, I had to include one local on this list–and Allison is definitely someone who has impressed me in the Twin Cities.
* Dana Lewis (@danamlewis). I selfishly saved the best for last. OK, I'll admit, I'm biased. I'm a huge Dana Lewis fan. You see, I've "known" Dana for almost two years now. We started the popular #hcsm chat on G-chat in January 2009. Since then, she's taken that social property big time (no surprise there). Another University of Alabama graduate, what makes Dana unique and attractive as a PR job candidate is her thirst for knowledge, her openness to learn and her willingness to look outside the fishbowl when it comes to PR and social media. And, I guess that combination was attractive as Dana has landed a position with the Swedish Medical Center in Seattle.
Which students (or recent grads) would you add to the list?
Note: Photo credit of Lowry_Lou via FlickR Creative Commons.