Why is storytelling so vital to corporate CSR efforts?
That was the topic I spoke about to a room full of community relations directors, non-profit leaders and communicators earlier this week in downtown Minneapolis at Ameriprise.
But, before we get to my ideas, some stats. According to a Net Impact survey, 53% of workers said a job where "I can make an impact" was important to their happiness. 72% of students agreed. A Cone Millennial Cause group survey said 80% of millennials wanted to work for a company that cares about and  contributes to society. More than half said they would refuse to work for a socially irresponsible corporation. While thinking about these stats, keep in mind that by 2020, millennials will make up a whopping 50% of the workforce.
Bottom line: Telling your CSR story is more important than ever–for your business.  Why? Because your employees are demanding it. And from a recruiting and retention point of view, it's a key motivator for younger audiences.
But, as I did some research around what companies are doing when it comes to digital storytelling to further their CSR missions, I didn't find much. Truth be told, I found very few online examples. Which could mean community relations directors and people in those types of positions may not be telling their stories through digital channels (if I can't find case studies readily, that's an early indicator, in essence).
So, what can community relations directors do? I've compiled 8 strategic ideas here to get you thinking. These are ideas based on work I've completed for clients–as well as other strategies I see other companies taking across the Web:
#1: Tell your story by covering your own events
Make like a reporter and cover your own events, like we did in the example below for the Bike Walk Move campaign from 2010-2011. Armed with only your smartphone, you can capture photos of your event you can use to tell your story via a quick and easy blog post that shouldn't take you more than 45 minutes to produce.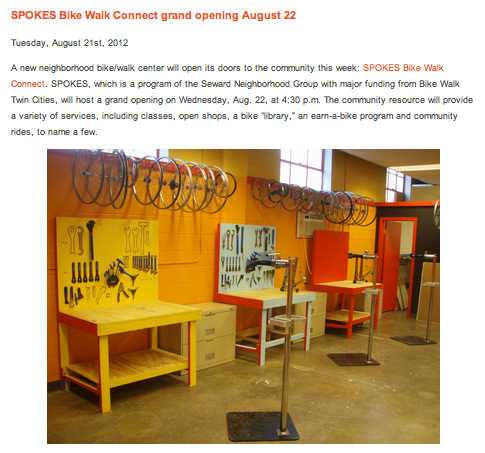 #2: Tell your story by using Facebook page post ads to amplify it
That post about your event from tip #1, take it and post it to your Facebook page. Then, make it a page post ad and target it to reach the audience you're seeking. $50 a day for two days will do to start. That's part of the approach we took with Bike Walk Move and the posts we promoted averaged thousands (tens of thousands in some cases) of impressions. Those without page post ad dollars behind them? Under 1,000 in most cases. My point? Use Facebook page post ads to amplify your stories.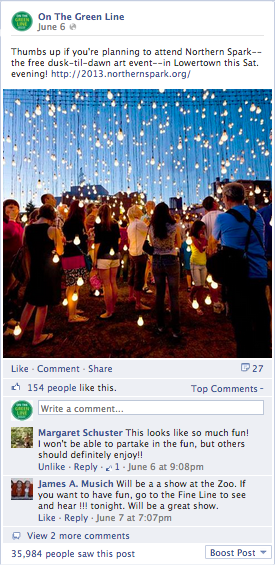 #3: Tell and recap your story to employees via Storify
I haven't seen anyone do this yet, but wouldn't it be a great use of Storify? Capture all those tweets, photos, and videos about your CSR or employee volunteerism event and encapsulate them in one Storify post that you could then use (via embed code) on your corporate blog. Simple, yet brilliant (and time-saving). Here's an example of how Avis used Storify as a storytelling tool (not in a CSR way, but still an example).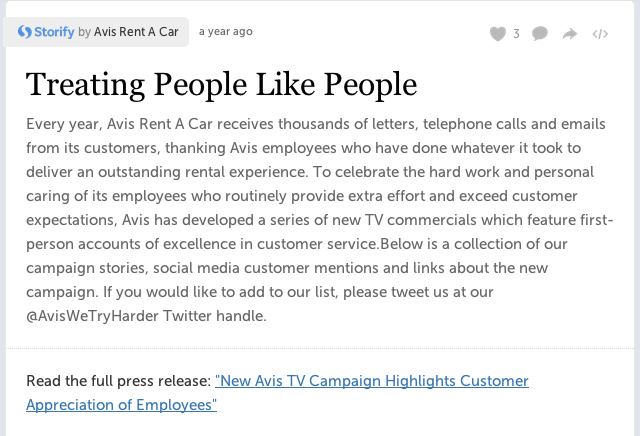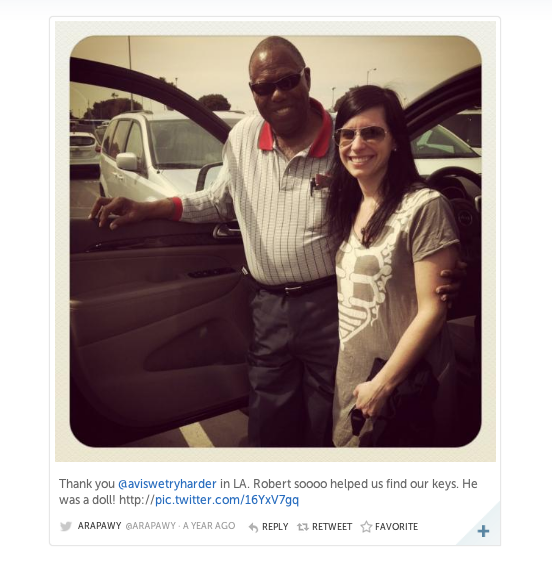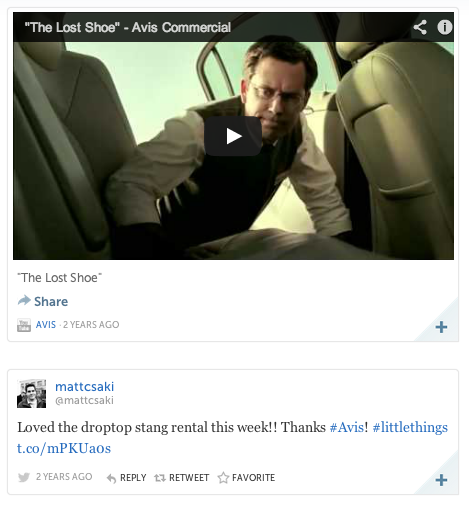 #5: Tell your story through consumable infographics
So many infographics across the web these days, right? But, in certain cases, when done well, they still do work. My idea here is to use infographics to make what can be fairly geeky data about your CSR program more "digestible" for customers, employees and other stakeholders. See what Target's done below to help promote its partnership with Feed USA.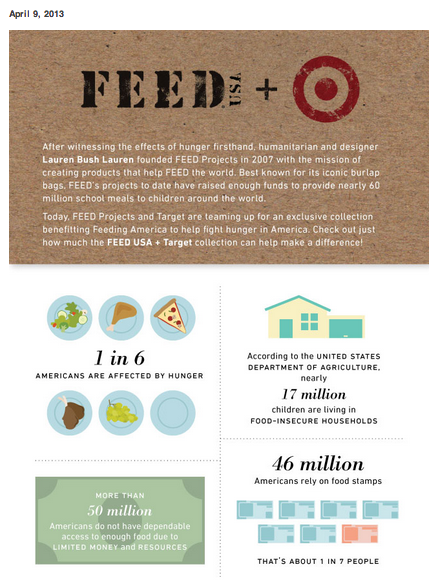 #6: Ask employees to help you tell your story–then publicly recognize them for it!
Love what Ben & Jerry's did recently with its Capture Euphoria campaign. Ask Instagram fans to take photos of themselves "capturing euphoria". Curate them. Pick the best and feature them in your ad campaigns. Then run those ad campaigns in the markets where those Instagrammers (most likely B&J customers, keep in mind) reside. Ask them to help–and then publicly recognize them. I can't help but wonder if community relations directors couldn't do the same thing with employees. Ask them to capture media at events, or of them volunteering–and then recognize them. Via your intranet. Or, posters within the organization. Or, at town hall meetings with the CEO. You get the idea.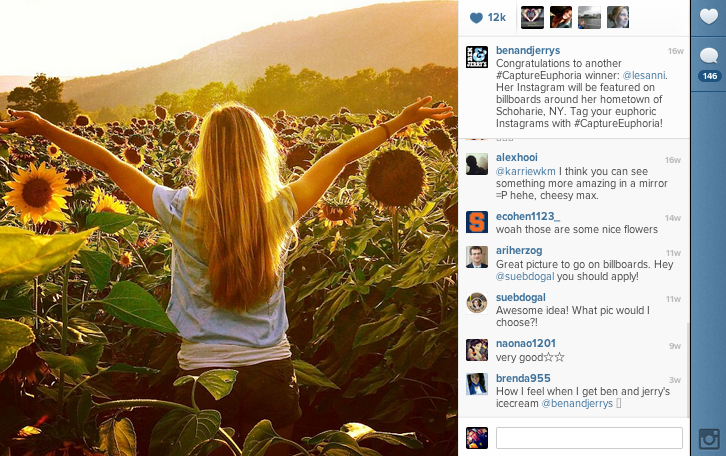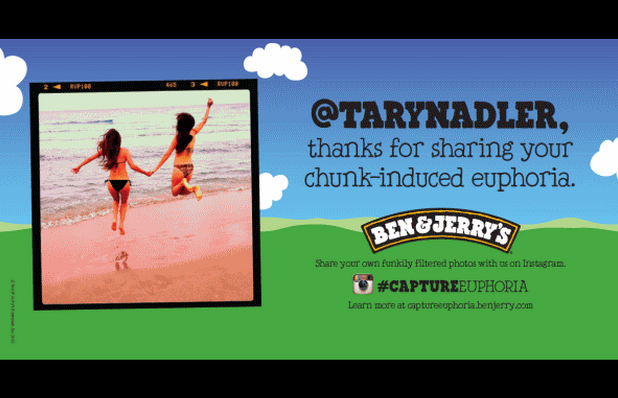 #7: Tell your story in just six seconds
I wanted to include one short-form video example since Vine and Instagram's new video entree is so, so hot right now. Trends aside, I do see opportunity here for CSR. Just look what Plan UK does here to thank donors and volunteers. Couldn't you do something similar? Learn to think in six-second video bursts.
#8: Tell your story…one day at a time…via photos…on Instagram
Maybe my favorite example here is the story of how the Calgary Zoo developed its annual report completely on Instagram. Each photo tells a story of how the Calgary Zoo makes a difference in its community. Couldn't you do the same in curating photos about your CSR program that tell a story? One photo. One day at a time.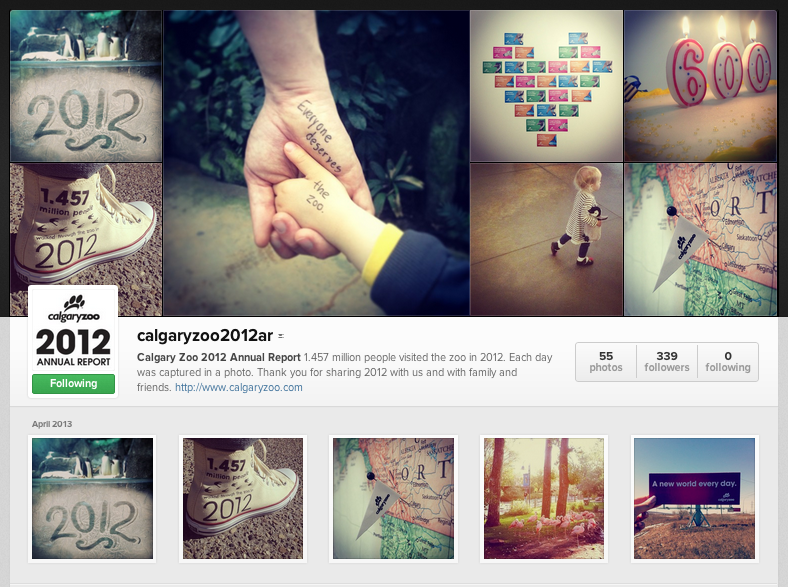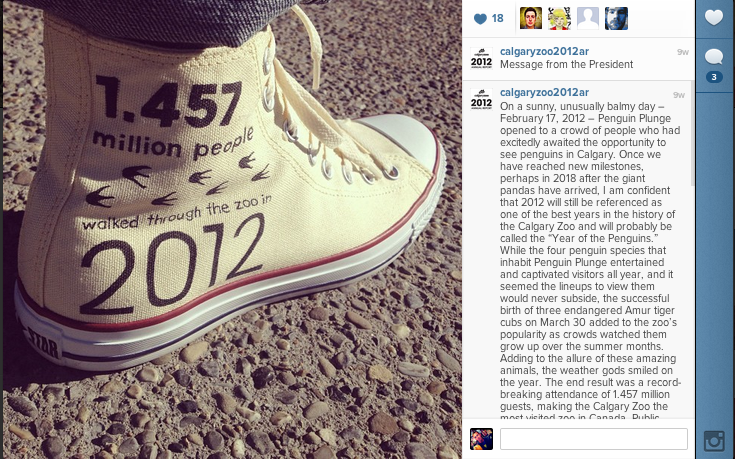 And, in case you care, here's the complete deck from the presentation earlier this week.