Last week, I asked the question: What's the best cup of coffee in Minneapolis?
Very controversial, right?
But, I mean, inquiring minds want to know. *PR* minds want to know. After all, we're HEAVY consumers of the liquid crack cocaine.
But seriously though, what's the best cup of coffee in Minneapolis?
Here's what a few of my friends on Facebook had to say: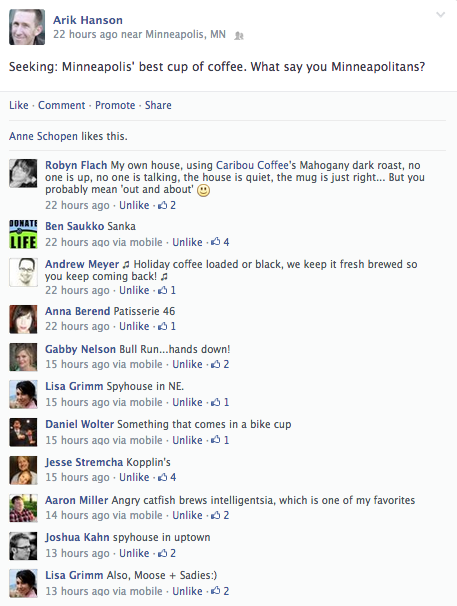 But, I wanted to hear a little more detail. And, I wanted to provide a resource, of sorts, to my fellow Minneapolitans.
I give you the 8 best cups of coffee in the Minneapolis area:
Lisa Grimm,  space150
Favorite coffee: Moose & Sadies
I don't frequent coffee shops nearly as often as I'd like to, mainly as the result of getting a Nespresso last year (greatest kitchen device ever!). I make a maple latte every morning and it is more delightful than most anything a coffee shop brews for me. I do schedule a lot of 7:30 coffees, which gives me an opportunity to keep tabs on the local coffee scene. There are a few shops I love, but Moose + Sadie's is among the best – and not just because it's below space150 :-). Moose is one of the few places in town that can make a killer maple latte (not sure why more shops aren't doing maple, but they should – it's insane delish), but they also have an amazing breakfast, lunch and dinner menu (black bean quesadilla with extra cheese is money). In addition to killer food and bev, it's a great atmosphere to get work done and have meetings downtown as it's off the beaten path and easy to park. The Moose crew is really rad. I have a few faves, but Tyson is my ultimate fave because he makes animals in my latte foam. And seriously, what's better than a bulldog in your latte foam? NothingJ.
Doug Hamlin, Fast Horse
Favorite coffee: Dogwood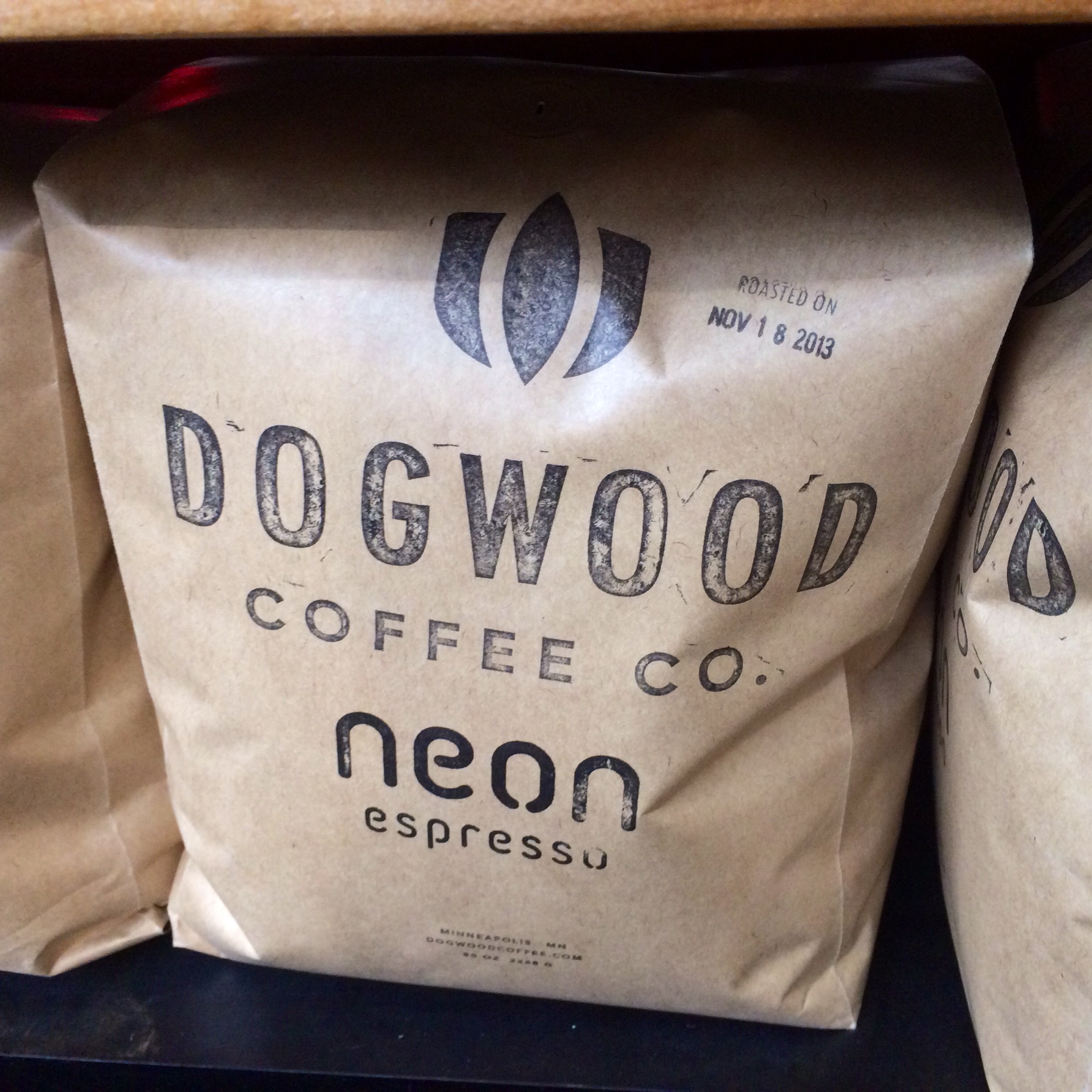 Dogwood Coffee Bar makes the best cup of hot brown liquid in Minneapolis. Their espresso drinks are fine if you are the type who likes milk more than coffee, but the real treat here is their single-origin brewed coffee. At $4+ for a large, this is more of a luxury than your everyday coffee, but that is money well spent. Dogwood roasts their own beans and steeps each individual cup of coffee in a Bonavita dripper. My favorite is the Burundi, which sadly isn't in season right now. It's also delightful to be able to pay with the Square Wallet app, but what really puts Dogwood at the top of my list is that fact that it's just a block away from my home.
Jesse Stremcha, Children's Hospitals and Clinics
Favorite coffee: Kopplins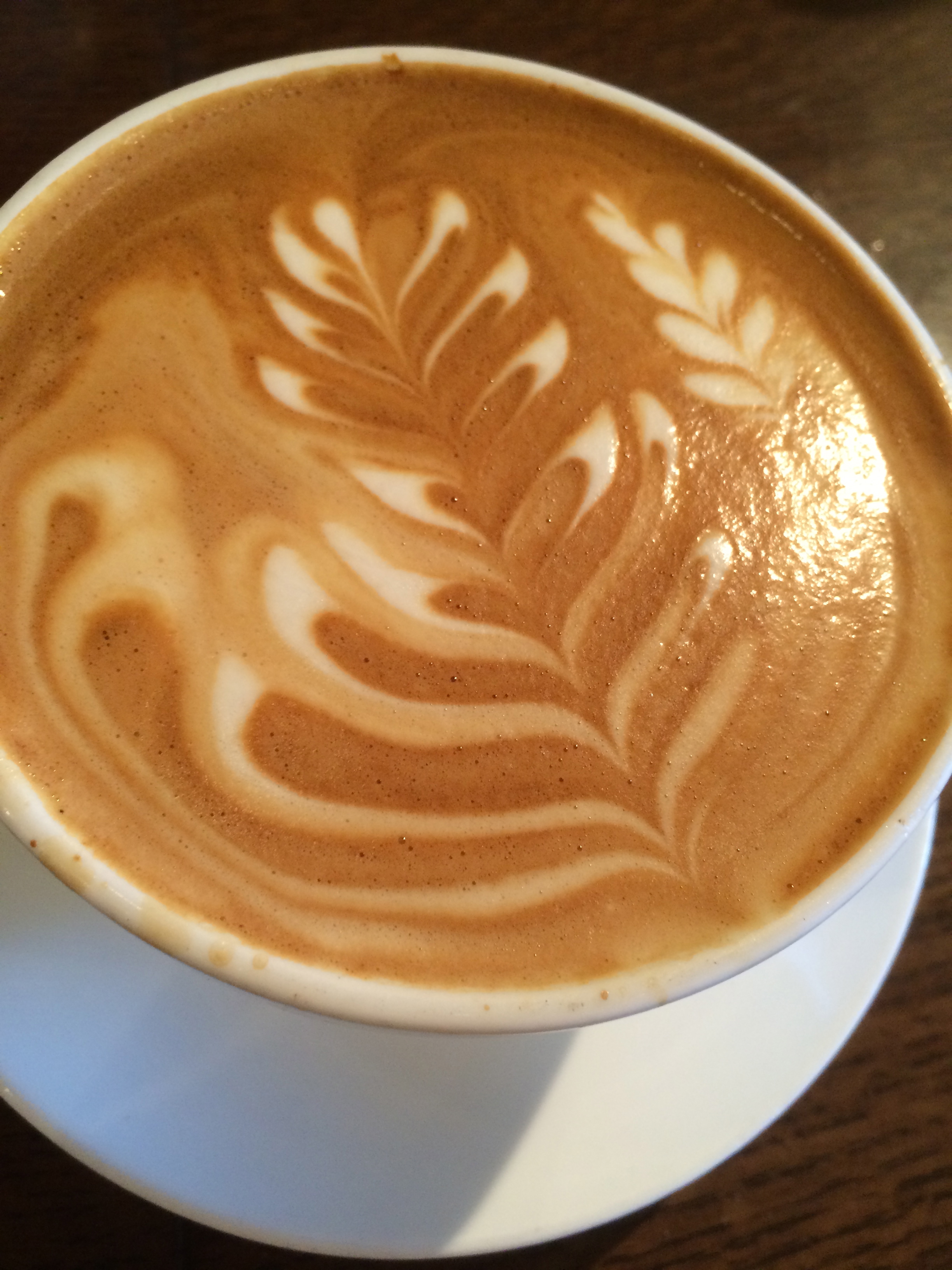 I'll fess up: Andrew Kopplin is my brother-in-law.  That makes me a fully biased lover of Kopplin's Coffee.  BUT, I swear, it was my favorite coffee in the city BEFORE we were related.
Caveats out of the way, there are some practical reasons I love Kopplin's.  It's the best tasting ultra-premium coffee I've had.  It's on my way to work.  And, when I invite colleagues to meetings at Kopplin's, they have generally heard of it and appreciate the 'excuse' to try it.  If they haven't heard of it, I can be confident they'll be wow'ed by the coffee.
Beyond the caffeine fix and place away from the office, Andrew loves and cultivates coffee and community, He worries about stuff you've never even imagined affected the quality of your cup o' joe –  the way it's dried, how it's shipped, the bags it's shipped in and where it's stored after it gets off the boat to name a few.  When the best roasters in the country weren't doing a consistently good enough job, Andrew integrated vertically and found a way to roast his own – to have full control and produce the best quality consistently.  And, he trains his team to bring the same passion and artistry to their work.
Beyond the coffee, Kopplin's is cultivating a community through a network of artists displaying art on the walls, local producers products in the small retail section, local bakery's treats in the case and Micawber's books that are the basis for the book club.  That's why I love Kopplin's the people, the place and the coffee!
Arik Hanson (wait, that's me!)
Favorite coffee: Angry Catfish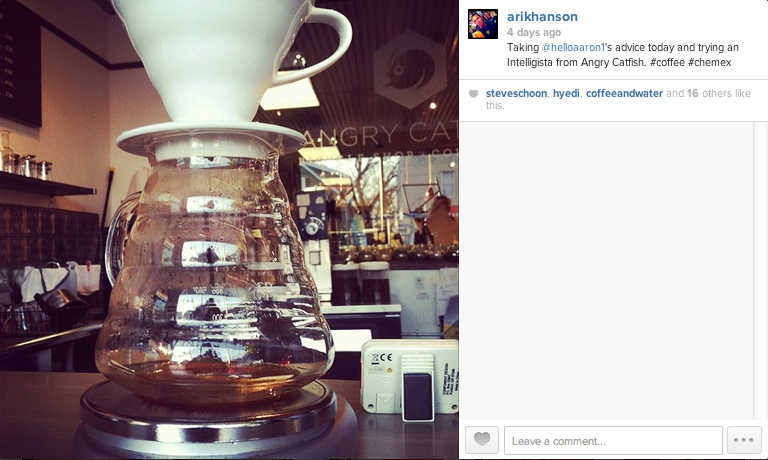 OK, so I cheated. In the Facebook thread above, Aaron Miller turned me on to Angry Catfish. But, since he made that post, I have had no fewer than three cups of Angry Catfish's Intelligista coffee–and it is delicious. No, it's better than delicious. It's better than coffee. In fact, I can't believe it IS coffee. It's that good. On par with Dogwood Coffee, which is saying a lot since I believe Dogwood is the best coffee in town, bar none. The wonderful bonus of grabbing coffee at Angry Catfish–you can pick up a pastry or two at the famed Baker's Wife shop just a few footsteps away (literally).
Tim Bursch, Spredfast
Favorite coffee: NE Spyhouse
NE Spyhouse is the best new addition to the already amazing coffee scene in MSP. This comfortable urban shop has dark colors and mix of spaces for working or conversation. It has a big-city feel with loud, but somehow soothing tunes. Try the Macchiato. Sidenote: good place for a date – sit in the corner seats along the window.
Dane Ray Messall
Favorite coffee: Urban Bean
I choose to drink coffee at Urban Bean because of the level of care and responsibility Greg, owner of Urban Bean, has taken to make sure he serves the best cup of coffee out there. All coffee at Urban Bean starts with quality locally roasted coffee beans from Dogwood Coffee Co. Greg's passion and attention to detail with each and every drink that comes out of his store is what keeps me coming back. You absolutely can't go wrong with Urban Bean.
Gabby Nelson, Sleep Number (client)
Favorite coffee: Bull Run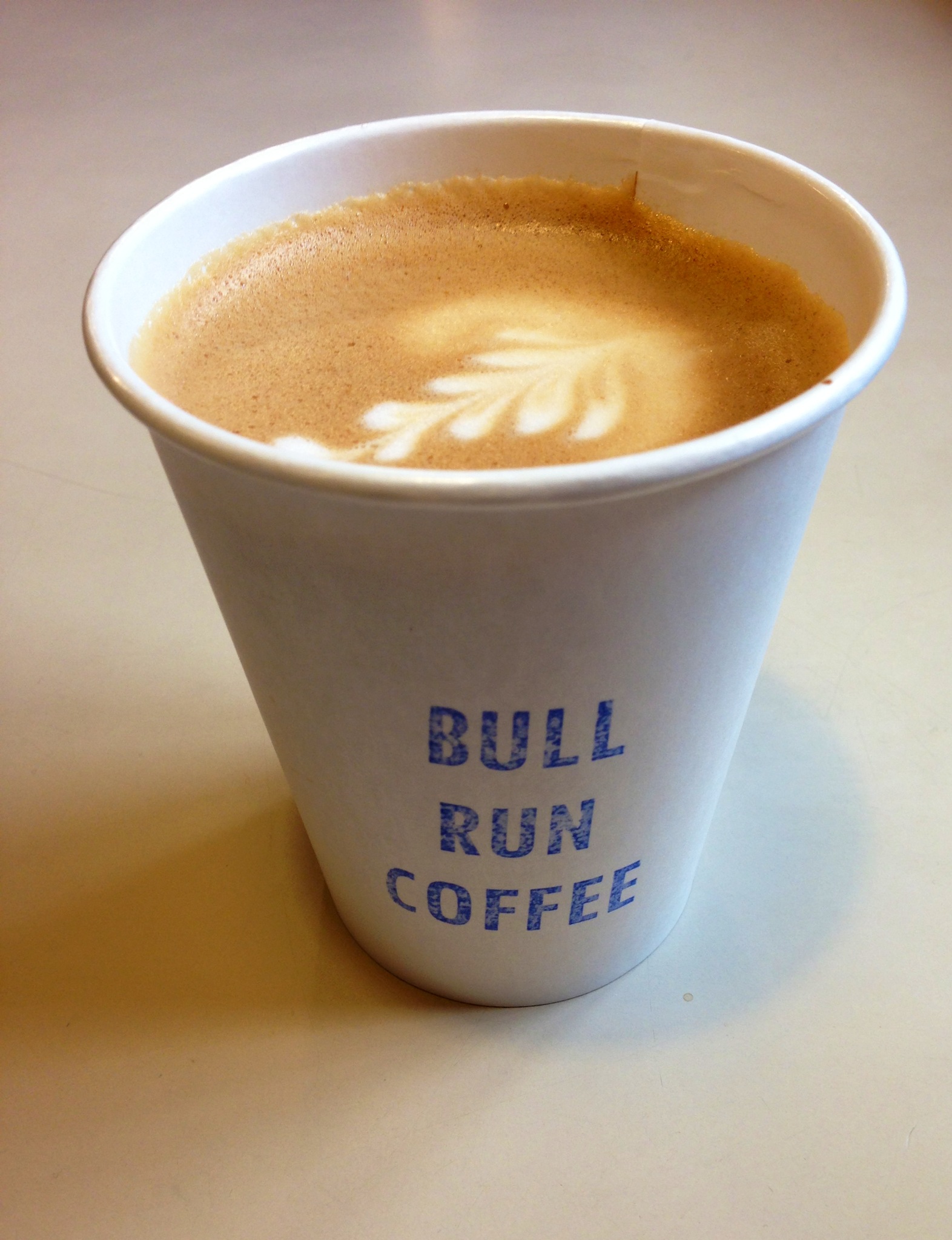 I am not a super taster. I cannot taste the subtle complexities of wine or identify the exact spices in a dish. It's a talent I most definitely lack.
In fact, I've only had one super-taster moment in my entire life. Last year, Peter and I took the kids out for brunch at Harriet Brasserie. I ordered a latte from the kind server, who, within moments, dropped a steaming cup of goodness off at our table. I took a sip and was pleasantly surprised to find it tasted EXACTLY like the latte I get at Bull Run. When I asked what kind of beans they used, my server kindly responded, "Bull Run, of course." I was shocked! The beans at Bull Run were so good, even an opposite-of-a-super-taster could identify them!
Plus, I think there is a cow living behind Bull Run. Really and truly. It's the only way to explain the creaminess (and utter supremacy) of their latte foam. just sayin'.
Karl Pearson-Cater, MSP Communications
Favorite coffee: Peace Coffee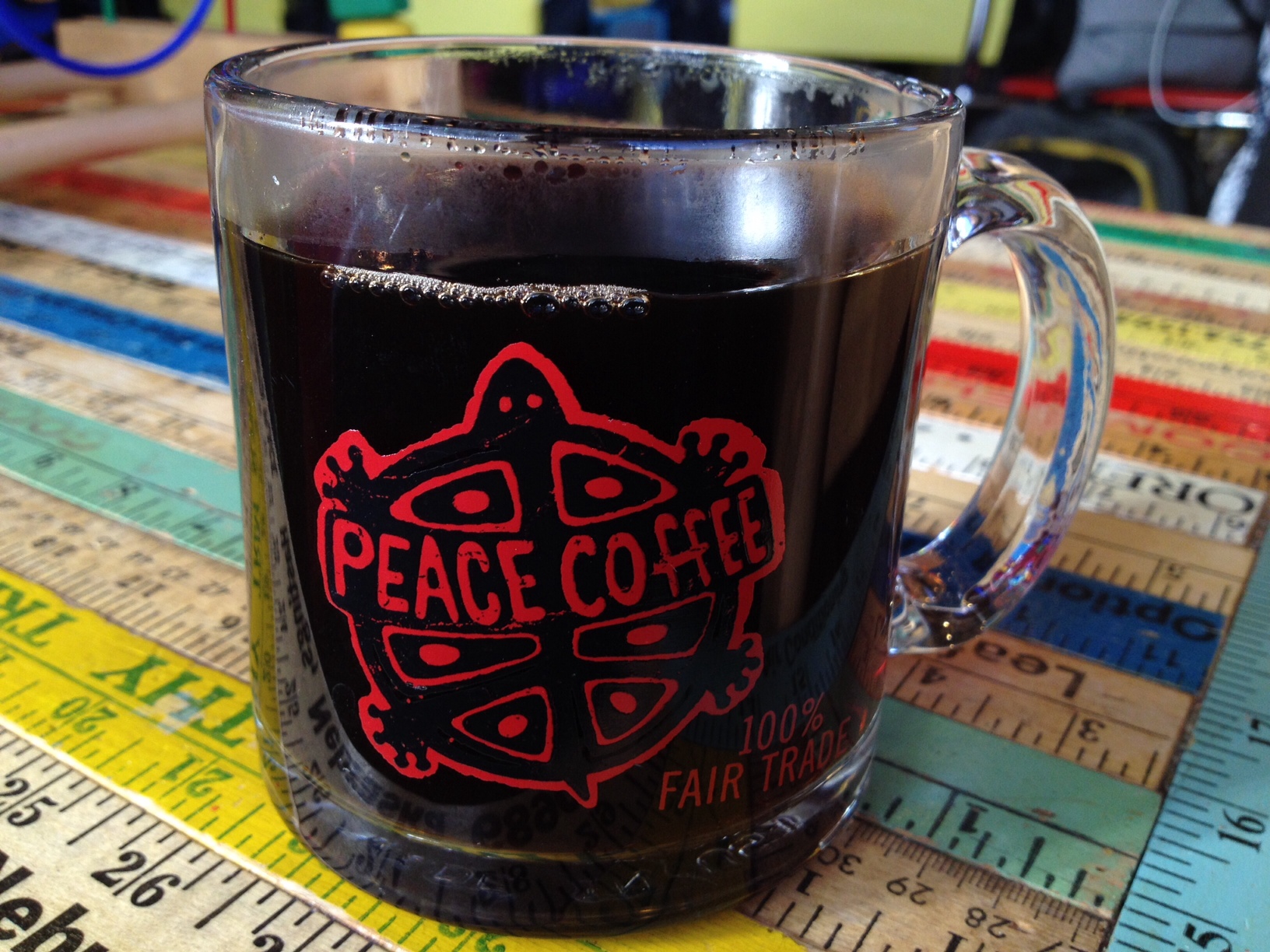 I love the Peace Coffee Shop — it's near my house, I can work there, I can take my kids there, I can meet with friends there. But most of all, what I love is the Peace Coffee coffee. They roast the beans less than a mile away. For my visit this time, I had the infinite cup of Guatemalan Dark Roast, which is excellent. FWIW, the Guatemalan LIGHT Roast is even better, so you should try that, too. They do the fancy coffee drinks and they are great (I highly recommend the "Dirty Chai" — google it!)
DISCLAIMER: Peace Coffee has given me free coffee before because I love their coffee and I helped them out with their own Mugshot Monday project. http://www.peacecoffee.com/resources/articles/introducing-mugshot-monday