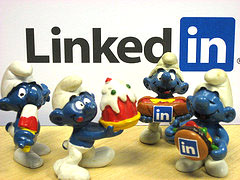 This past week, I received a number of LinkedIn requests to connect. Same ol, same ol', right? Wrong. I got two different requests that were not only personalized, referencing events we had both attended recently, but also requested follow-up in-person meetings.
Now that, my friends, is how you use LinkedIn to build relationships, network and ultimately get jobs or build business.
While personalizing your invites may seem basic, I'm continually surprised how many people don't take this simple step (that also takes about five seconds). Below are seven more tips to use LinkedIn as a real networking tool:
Update your status line regularly. Might seem basic, but so many people overlook this one (of course, you can always connect Twitter with LinkedIn now to get to this issue). If you author a blog, why not repurpose posts in that space? If you're organizing an event, why not mention it to your network? Whatever the case, don't ignore the status line.
Ask current contacts to broker introductions. Another basic, but a strong tactic to keep in mind. Want to work at Target but don't have an inside connection? Look for one of your current contacts that does and ask them to connect you. It's really as simple as that. Great way to get connected to new people–and you'll be surprised how many people are open to brokering those introductions (nearly all of them).
Focus on thought leadership by importing your blog feed. Want to really separate yourself from the competition? Well, first start a blog. Now. Then, link your blog directly to LinkedIn so the feed shows up in your profile. It's quick and painless. Again, this one might seem basic, but in today's PR landscape, as we see more and more requirements for digital and social expertise, this will really give your profile an added boost when employers start looking.
Extend your network by engaging your blog commenters. Meet new people and build your professional community by inviting folks who comment on your blog to join you on LinkedIn. These people took the time to comment on your blog, after all. Chances are, they're either a subscriber or a regular ad-hoc reader. Send a follow-up email to the commenter, thank them for their thoughts and invite them to connect with you on LinkedIn.
Be a joiner. Even if you're not a "joiner" in real life, it pays to join groups on LinkedIn. Target a number of groups that interest you. My faves are the Journchat group, MarketingProfs and PR Indies (local MSP group).
Be an active participant. Joining a group is just the first step. Being active is the key. Start discussions. Leave a comment, when appropriate. Participate in Q&As. Attend an in-person networking event via the group. Whatever the case, use the LinkedIn groups as a way to connect and solidify relationships with those you've met online.
Let "worlds collide." Couldn't resist using the famous Seinfeld quote. Mine your Twitter followers for potential LinkedIn opportunities. I try to take 10 minutes a week to identify new people I've connected with that week via Twitter and invite them to join me on LinkedIn. And remember, when sending the invite, make sure to personalize it. You'd be surprised at the reaction you'll get.
What would you add?