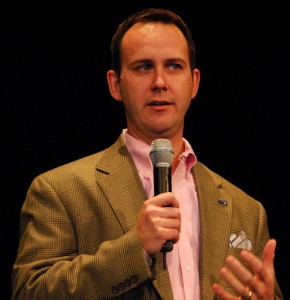 We've all been to a PR or social media event, meet up or conference or two. But, at how many of those events have you really been inspired and moved by the speakers?
My guess: Not too many.
As a speaker, it's hard. I get it. I've spoken at a few events–both locally and nationally. I don't pretend to be the best speaker (not even in the top 10,000 to be honest). I know I have a ton to learn. But, I also know speaking is an art form you can hone. And it takes hard work, time and perseverance.
On the other hand, this stuff just comes naturally to some. You know who I'm talking about. Seen Peter Shankman present before? Love him or hate him, the guy's very engaging. What about Scott Monty? If you've been to an event in the last year you've probably seen his Bill Cosby impression. 'Nuff said (he's also a phenomenal storyteller). And that's the kind of magic you want to capture at an event.
What makes speakers like Peter and Scott so memorable?
* Energy. I haven't seen Gary Vaynerchuk speak yet (waiting for MIMA here in MSP this fall), but from what I've heard the guy bursts with energy. From his videos you can tell–the guy is electric. That's the kind of energy you need to bring to the stage. Good energy can make "so-so" content stand out in the conference crowd. I've seen it happen. Over the years, some of my favorite speakers didn't have the most compelling content–but they brought huge energy and enthusiasm to their presentations. Made all the difference.
* Humor. You know my favorite event of the year so far? Ignite. It was fast, informative and funny. All the speakers at our event here in Minneapolis did fantastically well. But the ones I really enjoyed, were the folks who had a little fun with it on stage. Art Allen, Kristina Halvorson and Julie Kucinski come to mind immediately. Now, I will say that humor is one of the toughest things to do well in a presentation. But, if you can pull it off, it's extremely effective. It helps you connect with your audience. It disarms them. And besides, who doesn't love attending a presentation where you laugh a few times?
* Storytelling. I mentioned Peter Shankman above. I've only seen him present once–three years ago here in Minneapolis. Know why I remember his presentation so well? He told compelling stories. Yeah, some of them were funny–but they were all relevant. He knew how to tell a story in an interesting way and wrap his key points around it. Kevin Smith, head of public affairs for the Minnesota Twins is also very good at this. The more you can build relevant and engaging stories into your presentations, the better.
OK, so I've told you about a few speakers I've enjoyed over the last few years. Which speakers have really made an impression on the broader community? I asked a few folks earlier this week–and here's what they had to say:
* I'd go with @garyvee. Dude's engaging, animated, passionate and says it how it is. He could make dental work sound fun.–Kasey Skala (@kmskala)
* What makes @adriarichards a great speaker on social media? She uses it, gets it, believes in it, she has passion. She connects with her audience–Kim Opitz (@rribbitz)
* I would have to suggest @bradjward. Dynamic, insightful with strong anecdotes and data, and most importantly, relevant.–Kevin Grout (@kevingrout)
* For me it's got to be @
joannejacobs
– she totally rocks, very funny and very bright.–Olivia Hill (@oliviahill77)
* Best guy I've heard talk about enterprise social media for internal communications is @crescenzo! Great to read/follow his blogs as well–Christopher Lower (@mrchristopherl)
* I really enjoyed @CSPenn's presentation at @SoFresh in St. Louis. Engaging, interactive, and made research applicable for everyone.–Colby Gergen (@colbywg)
* Tim McIntyre is my favorite PR speaker. He presented on Domino's crisis management strategy. Informative, concise, funny, intelligent.–Case Ernsting (@metacase)
Who are your favorite PR or social media speakers? Why? What makes them great?
Note: Scott Monty photo courtesy of 1938Media via FlickR Creative Commons