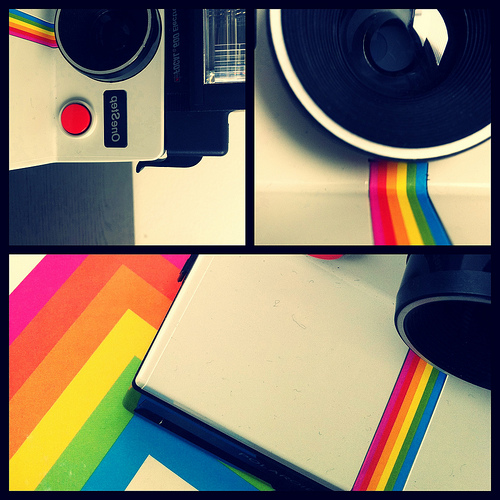 Within the last month, I bought my first iPhone (the white iPhone 4). I had been a Droid user for two years, but it was time to make the switch. After all, we're a fully integrated Mac family (iMac, two Macbooks, iPad and an ATV).
So, for the last month, I've been experimenting and playing with all the iPhone apps I can get my hands on.
By far my favorite has been Instagram. In fact, to be totally honest, I'm off-the-charts addicted. To the point where I find myself spending more time on Instagram than I am on Twitter or Facebook on the weekends.
I'm following my friend Allan Schoenberg as he explores London (he moved from Chicago to London earlier this year). Most days, I feel like I'm walking the city with him. Fantastic photos (plus, I LOVE the #schoeny hash tag).
I'm following my friend and fellow blogger Julio Ojeda-Zapata who posts a ton of photos from his neighborhood over in St. Paul, of which I'm a huge fan.
I get my fill of NYC pics from friend and Social Fresh organizer, Jason Keath. Outstanding shots of NYC from all angles.
And, I'm following Gerardo Obieta, who might be the most interesting of the bunch. If for no other reason than his photos routinely garner 50+ likes and many comments (for comparison sakes, most other folks I follow only have a handlful of likes and comments).
So, I figured either A) Gerardo was an Instragram expert, or B) He was an early adopter.
Turns out, he's both. So, since Instagram has quickly become my social tool of choice lately, I shot him a quick note asking for advice on how to best use the tool personally. I wanted to share the tips he offered up to me because I thought they were so fantastic. If you're an Instagram user, I highly recommend taking a peek at Gerardo's tips below:
Content is king.
So, try to post cool and interesting shots (Me: No surprise here, but definitely worth noting. Read: Don't just take photos of your kids, wife or home as I have been doing the last three weeks!)
Be a part of the community.
Spend some time "liking" photos from your followers. But also (and this is the key to getting more followers), spend time "liking" popular photos and photos from popular hash tags (#iphoneography, for example).
Don't forget about web.stagram.com.
To be honest, I didn't even know about web.stagram.com until Gerardo mentioned it. Much easier way to comment and "like" a ton of photos quickly. Gerardo sums it up: I use my phone as a tool for publishing when I'm on the go, but I use web.stagram for liking and commenting often.
Don't forget to comment.
"Liking" photos is fine, but you'll start to see real traction when you start leaving more comments.
Make sure you tag your photos.
Just like Twitter, hash tags are important here. And, they vary widely. #iphoneography is a popular one. Take a look at your feed and the popular pics–you'll start to notice hash tags that show up regularly. Start using those.
Publish daily–and during the right times.
According to Gerardo, the best times for posting on the weekdays are between noon and 1 p.m. and after 6 p.m. (CT). And, make sure to publish daily. As with any online community, you need to publish and create content regularly to stay relevant.
A huge thanks to Gerardo for the tips. What about you? If you use Instagram, what tips/advice do you have for interacting on the platform?
Note: Photo courtesy of Jeff Palacios via FlickR Creative Commons.