While this blog is built on WordPress, and I typically recommend most clients use the platform for various reasons, Posterous has always been a blog tool I've been somewhat enamored with.
In fact, I've created numerous Posterous blogs over the last couple years as a way to play with and test the tool (including the recent Bad Ass Shoes blog). I even started a Posterous Group a while back to experiment with that tool.
And while Posterous isn't quite the tight-knit community Tumblr is, there are a number of great blogs out there that are definitely worth following. Let's take a look at six I would highly recommend:
Talking with Tom
URL: http://www.talkingwithtom.com/
If you don't know Tom Martin, make it a point to follow and start reading him now. Founder of Converse Digital, a digital marketing firm based in Louisiana, Tom interviews some of the leading thinkers in digital marketing in this blog. Among the list recently: Amber Naslund, Scott Stratten and Matt Ridings. The goal of the blog? To post one interview a week through Dec. 20, 2011. Mission accomplished so far, Tom. Keep up the good work.
The 3six5 blog
URL: http://the3six5.posterous.com/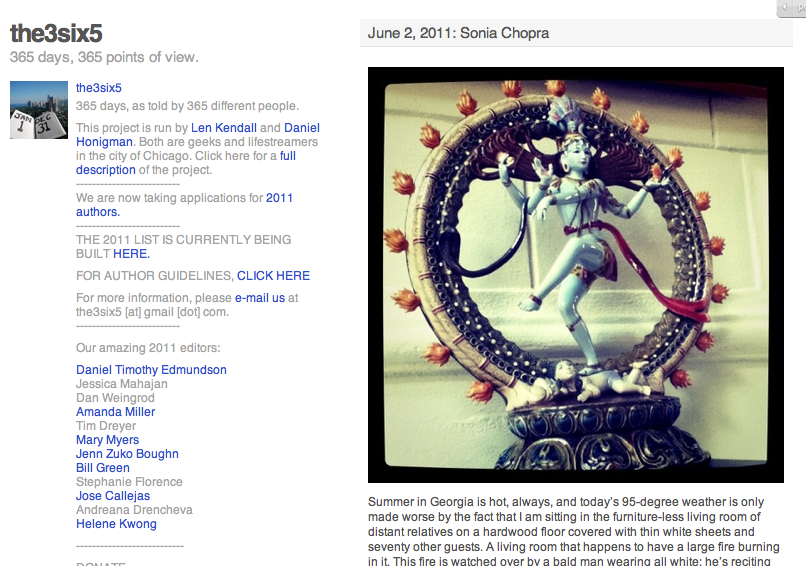 If you haven't heard of the 3six5 blog by now and you consider yourself "plugged in", you've been hiding in an online hole. The brainchild of Chicagoans Len Kendall and Daniel Honigman, The 3six5 is a story based on 365 different people's individual experiences. That's right, the blog is written entirely by 365 different volunteers from across the U.S. Len and Daniel pulled off one version of the blog last year–they're at it again in 2011. Great reading–and, consider contributing yet in 2011.
Jack Draws Anything
URL: http://jackdrawsanything.com/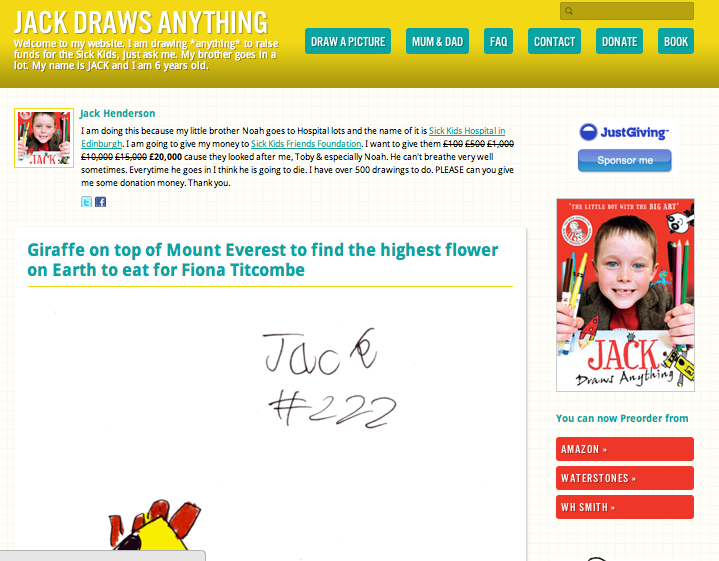 Meet Jack. Jack has a brother who is sick. He's in and out of the hospital regularly. So, Jack decided to start a blog based on his drawings in hopes of raising 20,000 pounds for the Sick Kids Friends Foundation. So far, Jack has more than 500 drawings–and more importantly, he's raised more than 15,000 pounds (he started the blog hoping to raise just 100 pounds). Sure, it's not the most relevant blog for PR/marketing types–but it's one of the more inspirational stories I've seen in quite a while (and you'll love the drawings if you're a parent).
Tweetdeck Blog
URL: http://blog.tweetdeck.com/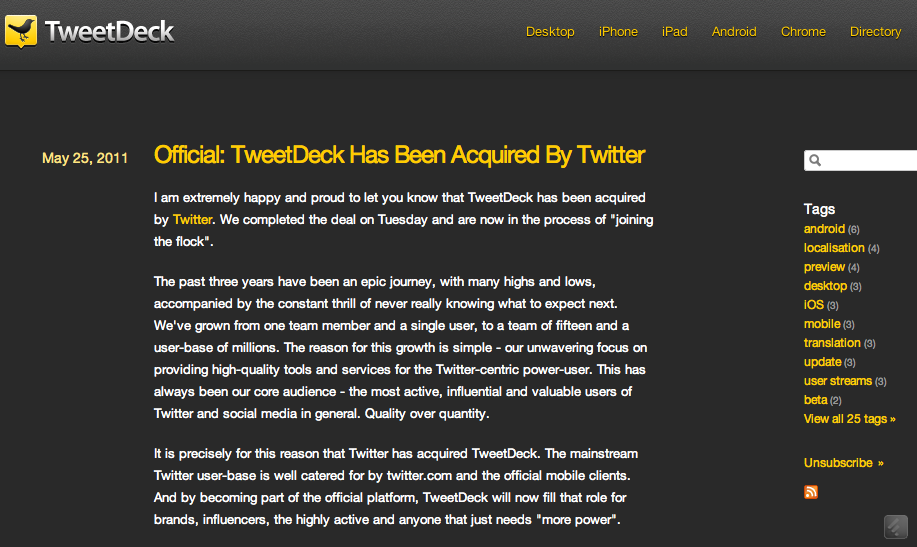 If you're a Tweetdeck power user, subscribing to Tweetdeck's official blog is a must. In it, they share all sorts of useful tips and tricks for how to best use the tool. They also share new pieces of functionality, include the new Deck.ly service earlier this year. Highly recommend subscribing.
E-Strategy After Hours
URL: http://afterhours.e-strategy.com/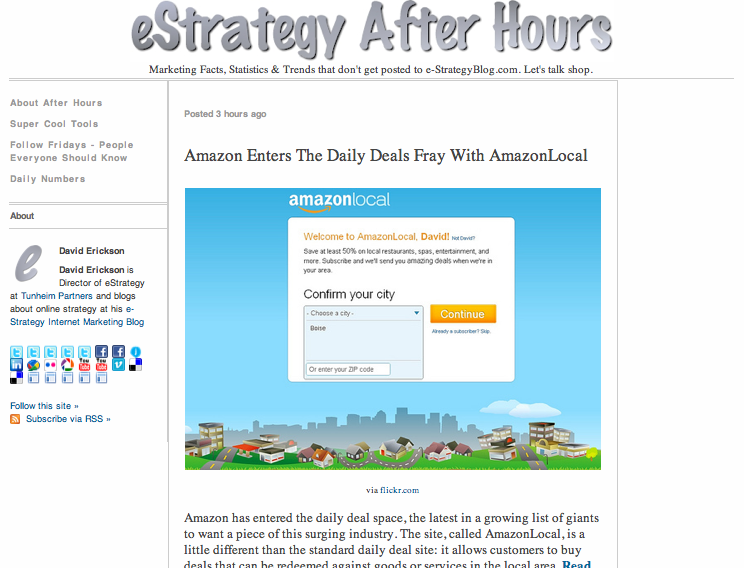 Without question my new favorite Posterous blog–by fellow Minnesotan and friend, Dave Erickson. In the blog, Dave routinely shares interesting and relevant statistics and data targeting everything from content to location-based demongraphics to infographics. I've found myself bookmarking many of Dave's posts lately. Great information for presentations and blog posts in the last couple months.
Holy Kaw
Love him or hate him, Guy Kawasaki still has one of the better Posterous blog around in Holy Kaw. By subscribing, you'll have access to a dearth of information (he posts upwards of 25 posts a day most days) ranging from useful infographics to Muppet Star Wars characters to scientific findings. All interesting stuff–and for PR folks who love learning new and unusual stats and information, it's a nice, easy blog to sift through every day.
Bonus: Summer of Dresses Blog
URL: http://www.summerofdresses.com/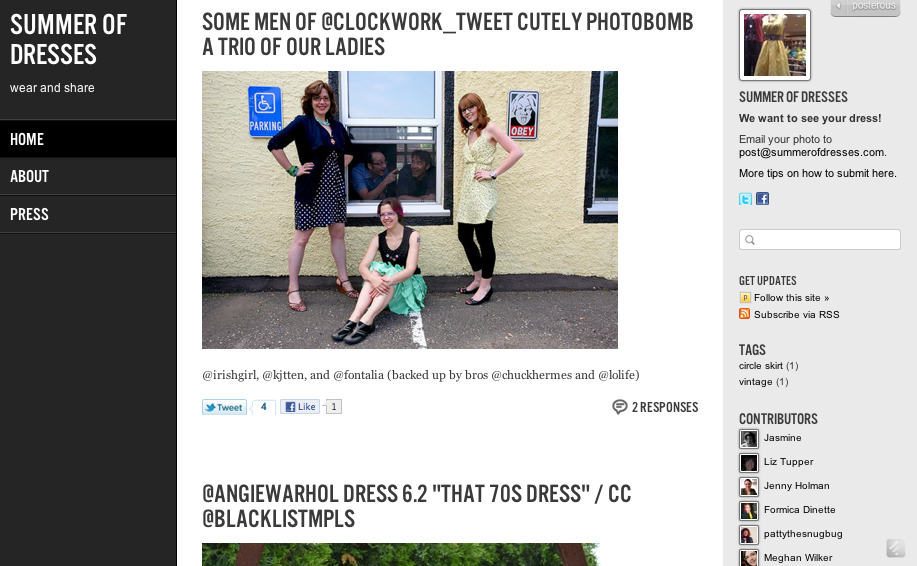 I'm a guy, so this blog obviously doesn't interest me, but I want to highlight it because it was founded by Nicole Weiler, Meghan Wilker and Liz Bastian right here in Minneapolis. The blog has gained so much traction over the last year-plus (including some great mainstream media coverage) that it was recently highlighted on the Posterous blog. And, I think it's a great example of how to use Posterous creatively to build community.