A few weeks ago, I bought an Amazon Echo Dot.
Complete impulse buy.
If I remember correctly, we were at Best Buy to purchase something for my son. But, I walked out with an Echo Dot.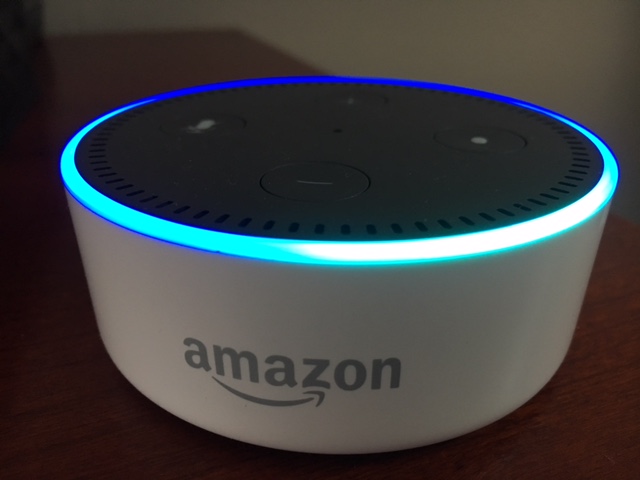 A few weeks later, I hadn't touched it. Until earlier this week, when I added it to my office environment.
Really, I just wanted to experiment with it professionally. That was my whole MO for buying the darn thing. But, as I started playing around with it this week, I'm starting to think: Every PR/social person should have one of these things in their office.
Why? Mostly for the multi-tasking capabilities (and really, the novelty). And, as PR people, we love our multi-tasking.
But also, for the improved productivity. As a one-man-band, I thrive on productivity (don't tell my wife that–doesn't translate to personal life :). Not to mention, they're pretty cheap–just $50 for the Dot.
So, the Echo Dot intrigued me.
And, so far, it hasn't disappointed. I'm just one week in, mind you, but Echo has helped improve my office environment and productivity in the following ways:
Instead of reading the news–I now HEAR the news
I still read the newspaper every morning (one of the few left, apparently), but when I have a few minutes of downtime, I've found it useful to "hear" the national news via Echo. Multiple ways to do this–the most easy: Simply saying "Alexa, what's in the news?"
Voice-activated music catalog
Obviously, this is one the functions most people use Echo for. And, as a power Spotify user, I've found it very useful. Not much different than using my Jambox, but I like that I can get my news, do research and get my music in one spot with Echo. I also like that the example on my Alexa app is "Alexa, play Taylor Swift."
Check your calendar with a simple command
Again, all I have to do is click and I can see my calendar, but it's all about multi-tasking, right? For example, let's say I'm on a call, and I can't remember my schedule for the afternoon. A simple, "Alexa, what's my calendar?" will tell me what's coming up, at what time and who I'm meeting with. All I had to do is sync up Echo with my Outlook calendar. Pretty slick.
Conduct basic research
Now, to be clear, this isn't going to replace more hard core research. But, for easy research requests, this is a nice option. For example–you get a question from a client on a call about how many users are on Facebook these days? Simply mute your phone and ask: "Alexa, how many Facebook users are there?" Boom–answer in seconds. You look brilliant. Amazon magic in motion.
Quiet your mind with a babbling brook or thunderstorm
I do a decent amount of work during the day to music. But, one thing I can't do with music in the background is writing. And since writing is such a big part of my day, that's an issue for me. Enter babbling brook and thunderstorm sounds via Echo. A simple "Alexa, open thunderstorm sounds" and I'm instantly transported. And, if you haven't tried this yet, believe me, it's worth it (warning: You may fall into a deep, deep sleep, but after you wake up you'll be so refreshed! :).
Those are just a few of the "skills" I've found useful in my first week. Do you have an Echo (or Google Home or similar tool)? Have you used it for business? What skills and tips would you share?