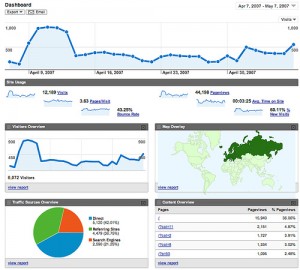 When was the last time you checked your Google Analytics reports? IF you're like most, it's not enough. We put so much time and effort into developing rockstar content for our blogs and promoting them, sharing and commenting that we don't spend nearly enough time analyzing the data and adjusting our blogging approaches.
I've made a concerted effort recently to change that (personally, for this blog, to be clear–I check client data weekly or daily in some situations).
As I've been checking and playing with Google Analytics more, I've ran across a number of key metrics I find myself checking more often than others. Below are five I check out routinely and how they can help you develop more compelling content–and ultimately, a better blog.
* New vs. Returning visitors: What's your ratio look like here? If it's high on new visitors and low on returning, what can you do to encourage readers to return more often? Maybe re-consider the placement of your RSS/email subscriptions buttons? Consider adding a subscribe button at the bottom of each post? If you have a lot of returning visitors and not too many new ones, maybe you need to rethink your community strategy. What are you doing to promote your content? Should you include more guest posts? Are there sites that would be open to syndicating your content?
* Visitor loyalty: This section is a treasure trove of stats. Find out how sticky your content is (depth and length of visit). And how compelling it is (recency and loyalty). If the bulk of your readers are only visiting one page and staying less than 30 seconds, you may need to work on developing richer content. After all, you want your customers/readers hanging out at your site for longer than that (and hopefully, visiting more pages). When was the last time readers visited your site? If it's within a week and you churn out content regularly–you're happy. If it's a month ago, maybe that's an indicator that you need to work on the quality of your content. A lot of insights to be gleaned here.
* Referring sites: Great tool for identifying exactly where your blog traffic is coming from. Is it coming from Twitter? Facebook? Organically? LinkedIn? Other sites? Monitor where your traffic is coming from regularly and tweak your promotion/sharing strategy accordingly.
* Keywords: Quick, basic tip: Start strategically tagging and planning for keywords you want to be searched for using the Google Ad Keywords tool, and watch it pop up (hopefully) in this area. For example, I recently wrote a post about developing social media editorial calendars–and tagged it according to the keywords I noticed that weren't overly searched for. That wasn't by accident–from a business perspective, that's a service/value I provide to my clients, so I wanted to rank higher for a couple key phrases around that concept. A few weeks later, it's popping up in my keywords in Analytics. Now, if I can just start popping up on page one…
* Top content: A basic item to check, but an absolute must when it comes to maintaining a blog that's relevant online. What topics are interesting your readers? They should pop to the top of this list pretty quickly. Use that information and data to think about additional topics. Do the top three posts in your "top content" list have anything in common? Are they all tackling the same concept? Are they all list posts? Find the common threads and exploit them in future posts.
I'd love to hear your ideas on how you're using Google Analytics to improve your blog–either personally or for clients. Please share in the comments–we can all get smarter.
Note: Photo courtesy of vrypan via FlickR Creative Commons.