Earlier this year, my friend and colleague Heather Whaling turned me on to a new tool: Newsle. For the uninitiated, Newsle is like Google Alerts for individuals and media hits. A great way for you to track friends, colleagues, competitors and journalists who are in the news (or creating the news).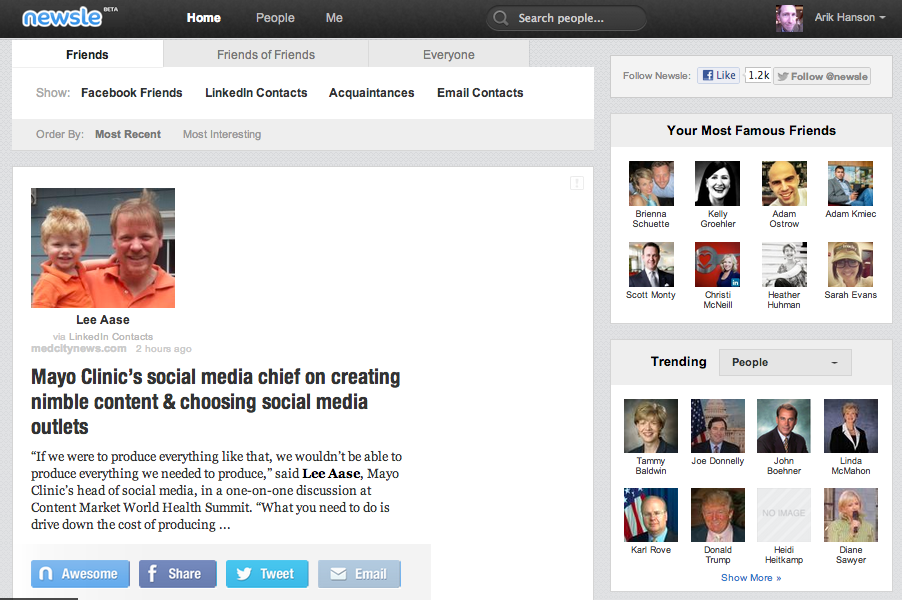 In essence, Newsle gives you a chance to track LinkedIn connections, folks in your email address book and Facebook friends as they pop up in news stories and articles across the Web. The best part? Newsle will send you an email with this information when your friends or colleauges are in the news–so you know just about as soon as they know (it seems).
OK, I know, this might not seem particularly helpful, but consider the following ways Newsle might help you and your PR efforts:
Monitor yourself
First and foremost, make sure you're monitoring yourself. Sure, you might have Google Alerts set up for yourself–and those catch a lot. But Newsle will catch all the blog posts–and more importantly, media outlets–you show up in from day to day. Nice combo-platter to monitor your own rep online.
Send a quick congrats to a friend/business partner
A few weeks ago, I got a notice in my email inbox that alerted me to a nice little interview post featuring Jason DeRusha of WCCO-TV fame. I've met Jason a few times and while we're not BFFs, I'd like to think he remembers me and knows my name. So, I took that link, send him a DM via Twitter and a quick congrats on the article. Not a huge deal, but I want reporters and media folks like Jason to know my name (and trust me) so when I send them a pitch at some point, they actually take the time to read it and consider it.
Recognize stories by local/national journalists
Working on pitching the tech writer with the Wall Street Journal? Get to know his writing by following him on Newsle first. You'll see all the stories he authors–and it'll give you a nice chance to get familiar with the topics he/she covers and their style. I realize you can do this by visiting the media outlet's site, or by using Google (or other paid media database tools), but for free, Newsle's pretty effective here (and again, you'll get the most recent stories in your email inbox).
Keep an eye on your competitors
In our business, it pays to know what your competitors are up to. For me, I try to keep an eye on what other solo consultants are up to in town–as well as other small to mid-sized agencies (I don't go up against the Weber Shandwick's of the world all that often). So, set a few Newsle alerts for your chief competitors and you'll find out the moment they pop up in those new business win articles.