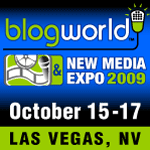 There are a number of monster events in the digital industry each year. SXSWi, SoFresh (a fast rising star, by the way) and the 140 conferences come to mind.
But, the event I add on my calendar each year is BlogWorld.
OK, I'll admit, a big part of it is the venue. Vegas, baby. Vegas.
But, another big part is the fact that it's an entire conference squarely focused on blogging (well, and social media to a large extent). For four days, geeks descend on Vegas. It's wonderful. You learn. You reconnect with old friends. And you meet a few new folks, too.  And, bottom line, it's a lot of fun.
Last year, I had the good fortune of helping Jason Falls with a few facets of the Social Media Business Summit–a big piece of BlogWorld and the track that focuses on the business applications of social media. This year, I had the opportunity to organize the entire track with my good friend, Chuck Hemann.
We had a ton of fantastic submissions and suggestions to review–believe me, there was no shortage of great ideas. But, in the end, we think the track that's been developed is pretty darn solid.
Since the entire track doesn't necessarily have a PR focus, I wanted to highlight just a handful of panels that I think are "must see" for any PR pro while in Vegas Oct. 14-16:
* Digital Crisis Communications: Avoiding a PR Disaster. The panel says it all here: Scott Monty from Ford, Shel Holtz and Dallas Lawrence from Burson-Marsteller moderated by Valeria Maltoni. That's upwards of 50-plus years of communications experience on that panel. The panel will discuss questions like: Are you rushing to deal with perceptions without knowing the facts? Are you integrating social media into your crisis planning? Are community managers trained, do they have crisis escalation paths? Or have you just addressed responding to detractors? It will be interesting to hear Scott talk about the processes and thinking at Ford, while Dallas and Shel talk about their approaches and ideas from the consulting side of the table. Should be a fascinating discussion.
* PR in a 2.0 world. In this panel, Todd Defren, principal at SHIFT, Dave Fleet, new VP of Digital at Edelman and Heather Whaling, principal at Geben Communciations will discuss the challenges, best practices and perils of PR in the 2.0 world. This should be an interesting discussion since each panelist is not only a PR practitioner with experience in online marketing and communications, but also a prolific blogger themselves. In particular, I'm curious to listen in to the discussion about influencers and how we identify them and how we reach out to them, given the flurry of conversations on that hot topic lately. I'm also very interested to hear opinions from people working in different environments (Dave at a big shop like Edelman, Todd as a principal at one of the more savvy digital firms in SHIFT and Heather as a solo/small business owner). Should be a great panel.
* Social and SEO, Lee Odden–TopRank Marketing. You know, it's funny. I live and work less than 30 miles from Lee Odden, yet I don't think I've ever heard him present or talk about this critical topic. But, SEO is top of mind with me these days so I rarely miss an opportunity to soak up more information. And, I'm a big believer that PR should be getting more involved with SEO–not shoving it off on the Web or marketing teams. So, this quickly becomes a must-see panel for PRs looking to get smarter about the intersection of social and SEO.
* Managing group blogs. Adam Ostrow–Mashable, Mike Stelzner–Social Media Examiner, Christi Day McNeill–Southwest Airlines, moderator-Cathy Brooks. As more companies start to blog and resources become more strained the concept of a "group blog" will only grow in the years ahead. That's why I think this session is so important to PRs right now. Never mind the killer panel lineup. It will be interesting to hear Adam talk about how Mashable prioritizes and organizes the huge stream of content they publish each day. It will be fascinating to hear Mike talk about how he started one of the more well-read social media group blogs from scratch in just under a year. And, I'll love to hear Christi talk about how she motivates baggage handlers, pilots and other SWA staff to blog and contribute each day at the Nuts About Southwest blog.
If you're a PR going to BlogWorld, what panels are you most excited about–and why?