Two months ago, LinkedIn rolled out yet another new feature for its members: The ability to record and upload video right from your mobile device.
Video, of course, isn't necessarily new to LinkedIn. You could upload video to a post whenever you'd like. But, "native video" (video you record on your device and upload directly) is new.
Over the last two months, most members most likely now have access to this new feature. However, from a brand perspective, company pages do not. But, I'm quite sure that capability will be coming our way in 2018.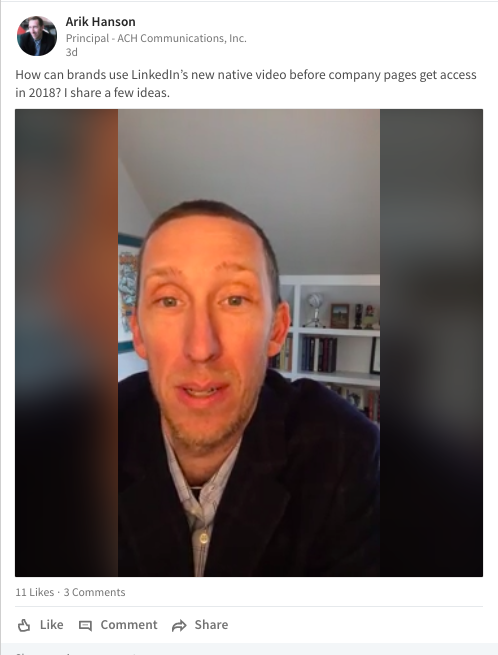 In the meantime, I believe there are some ways you can start using LinkedIn video to your advantage from a brand perspective. Consider the following ideas:
What about encouraging executives to expound on LinkedIn published posts?
Anecdotally, I've noticed more executives using LinkedIn publishing in the last year to share thoughts and perspectives on their industries and companies. So, working with your executive partners to record a short video expounding on those published posts just makes sense, doesn't it? After all, it wouldn't really be that hard to set up half hour to record one of your executives in your offices using just your phone. I'm thinking about people like Mary Barra, CEO at General Motors. She's a regular "poster" on LinkedIn–take this post for example. Why couldn't she expand on this post a bit with a short 3-5 minute video where she talks more in-depth about one particular piece of her post?
What about asking your biggest brand advocate employees to record thoughts/opinions live from key brand events/milestones?
Consider the following scenario. Your brand is exhibiting and rolling out a new product at CES in early January. You're executing on all sorts of other social tactics for the event, but why not ask your product manager, who's a huge brand advocate, and is pretty connected on LinkedIn, to capture a short video of himself talking about the rollout right from the CES show floor? I think specific asks of key employees who: 1) are big brand advocates already, and 2) are active on LinkedIn and comfortable recording on their own, would be incredibly effective.
What about recording simple, Q&A-style interviews with your more influential leaders on LinkedIn?
If you don't have executives publishing already on LinkedIn, this feels like a great next option. Set up a fireside chat scenario with your CMO and talk about the Super Bowl spot you just unveiled during the Big Game last weekend. This one feels pretty easy to pull off, too. All it would require is scripting out the interviews, preparing your executives and planning out the best way to record via your phone.
Just a few quick ideas. Native video will come on the brand side. But, until it does, there are ways you can leverage native video NOW.