Corporate blogging has never been bigger. According to the annual University of Massachusetts study of how Fortune 500 companies are using social media, a whopping 77% of companies are using a corporate blog.
However, many of these companies follow the same playbook, using their corporate blogs essentially one of two ways: to share corporate news or to promote thought leadership. Look through the Fortune 500 companies and their blogs–you'll definitely see this pattern.
And, to an extent, that's fine. Those blogs probably drive organic traffic to their corporate sites (a huge goal, I'm sure). And, they promote news and information they want their audiences to consume (another key goal).
But, as we sit in the middle of annual planning season for 2023, I think there are some key ways corporate blogs could see much more success by taking a few pages from their individual blogger counterparts.
Three big lessons come to mind:
1 – Conduct and publish original research as a tool to drive interest, traffic for your brand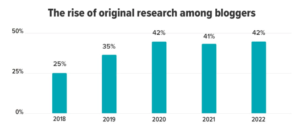 According to Andy Crestodina's annual blogger survey, 42% of individual bloggers have created original research in the last 12 months. And those bloggers are 41% more likely to report strong results than those who do not publish original research. Andy's blogger survey is a perfect example of what this looks like in action. He's been publishing this survey for years and almost every year I talk about it on the Hanson & Hunt Podcast and I often talk about it here on this blog. And, I'm far from alone. That survey must get Andy tons of traction each year–it must be a huge traffic driver for him, and it's probably great for organic SEO with all these backlinks he's getting. Corporate blogs could replicate this strategy very easily–but few do. The one that comes to mind is Edelman with its annual Trust Barometer. They do a fantastic job of publishing that survey data each year and leveraging it for MONTHS afterward. Think about surveys or studies your social team could conduct and how you might publish and leverage that content. Remember, it's one survey, yes. But, it probably turns into about 20-30 pieces of individual content for social and other digital channels.
2 – Update old content that's historically performed well as a way to drive more organic traffic.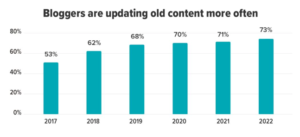 According to the survey, 73% of bloggers are updating old content more often. And those bloggers are 2.8X more likely to report strong results. This has long been a personal blogger strategy to drive that long-tail organic traffic we all crave. And, it's really not that tough. Find your most popular posts from the last year, update or rewrite them, and watch the traffic flow. Corporate bloggers would be wise to adopt this easier-than-you-think strategy. Start by updating one post from the last 12 months that was in your top 10 most popular posts on your blog and see if the results follow. After that, you may make this a regular part of your content strategy.
3 – Collaborate with industry influencers to develop interview or roundup posts to reach new audiences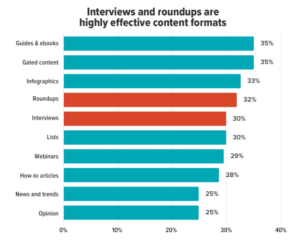 This is also a strategy personal bloggers have used for YEARS with great success. According to the survey 32% and 30% of bloggers report strong results when using roundup and interview posts. These are typically done in conjuction with industry influencers. Think about Lee Odden's TopRank Marketing blog has long produced a roundup of the top B2B marketing influencers to follow. And there's a reason he keeps doing it year after year–I'm sure it works. Not only do people find it useful and interesting–the people on the list most likely share this post on their social networks giving the list all sorts of reach it wouldn't normally have. Corporate bloggers could do the same, but have been reticent to take this approach for years. And I really can't understand why. I mean, couldn't you just flat-out copy Lee's approach with this blog post? For example, if you're Cleveland Clinic, couldn't you produce a post sharing the top 25 influencers in the health care space? Wouldn't that work pretty well? Or, I've long been a fan of industry news roundup posts–I'm still amazed more companies don't do that with their corporate blogs. Whatever the case, I think this approach has HUGE untapped potential for most companies with blogs.