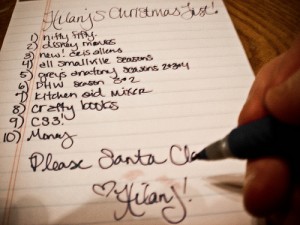 Not sure what to get your boss this holiday season? Looking for a perfect gift for an industry colleague? Or, maybe you're trying to think of gift ideas to give to others for yourself?
Whatever the case, ideas for that PR pro on your holiday gift list can be hard to come by. So, I thought I'd put together a short list of some of my favorite ideas, along with some great ideas from the community around us.
First, my ideas:
* The ultimate iPad sleeve (I'm buying this as soon as I get my iPad this Christmas!).
* MarketingProfs membership–the gift that keeps giving all year long. And, from what I hear (have yet to subscribe–please don't kill me Ann Handley!) a tremendous vault of content.
* A ticket to the 2011 SXSWi–one of the "must attend" conferences of the year in the digital arena.
* A six-pack from two of my favorite breweries (Surly Brewing or New Glarus Brewery). After all, a PR consultant has to relax, right? 🙂
And, the community ideas:
* A flip cam, editing software and paid for class on how to use it. Frank Strong, Vocus.
* "Lend Me Your Ears: Great Speeches in History" by William Safire (especially for PRs who do a lot of speechwriting). Elissa Freeman
* iPad/laptop case, subscription to Wall Street Journal, Beats headphones for listening to music/podcasts. Kasey Skala, Great Clips
* Scott Stratten's UnMarketing book. Jason Mollica, Carr Marketing Communications.
* Every PR professional should have a self-hosted blog that allows you to get additional writing experience outside of work, experiment with what it's like to grow and maintain a readership and experience with understanding Google Analytics (and I highly recommend keeping close track of your blog's traffic stats!).  I'd also recommend Switch by Chip and Dan Heath. Even though it doesn't directly relate to the PR industry, you can very easily apply what you learn in this book to public relations. Nikki Stephan, Identity PR
* An iTunes gift card. In general I hate gift cards and think they're a cop out, but since you can use them to buy iPhone and iPad apps, they can come in really handy for PR pros who are trying to keep up in the digital world.
I also swear by my 
BuiltNY laptop sleeve
. It's slim and low profile, but rugged enough to protect my computer. Plus, because it's a sleeve design, I don't have to take my laptop out of it when I go through airport security. And there are a ton of design options that are a lot more fun than a plain black leather laptop bag.
Amy Mengel
, ReadMedia
And finally, Kevin Dugan from the Bad Pitch Blog, gives us this sage piece of gift-buying advice: "Learn what inspires them. Give gift cards to fuel inspiration. Music = iTunes. Not impersonal if they know WHY you bought it."
What would you add to the list?
Note: Photo courtesy of Hilldog! via FlickR Creative Commons.