A few months ago the good folks with the Puget Sound PRSA chapter asked me to keynote their PRSA Pro Conference on June 12. The topic they wanted me to speak to? What skills does tomorrow's PR pro need to be successful?
Perfect! A topic I'm both passionate about and know a thing or two about. After all, through my business and my HAPPO work, I talk to a ton of people about the skills required in the marketplace today.
Now, I'm not here to tell you the traditional PR skills are dead. On the contrary, they're more important than ever. You don't think superb writing skills still matter? I might argue they're more important than ever with the myriad of content needs for today's business. You don't think media relations skills are still relevant? In today's shrinking newsrooms they probably make a bigger difference than they did 10 years ago since it's not as easy to get a reporter or editor's attention, given the demands on them today.
But, these emerging skills are important. And, in most cases, they're simply a layer on top of those traditional skills.
And keep in mind, this isn't just me saying this. The list below is based on conversations I've had with actual recruiters, agency owners and colleagues over the last few years. These are skills some employers aren't just looking for–they're demanding. And, you're going to see more employers jump on that bandwagon in the years ahead.
Just watch.
For now, let's roll through the 10 skills tomorrow's PR pro has to have to succeed:
1- Advertising copywriting
Quote: "Tactics I've seen include social media management, e-newsletters, Facebook advertising, Google Adwords, and more, and I expect that to increase.  Because online advertising is often rooted in messaging rather than creative, it makes sense for PR agencies to drive a lot of it."–Rachel Kay, owner, RKPR
Examples: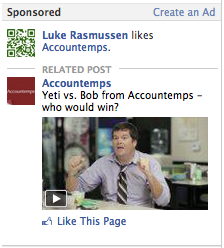 Tip: Let the visuals do the heavy lifting.
Resources: Social Fresh Facebook Ad Report
2- Video editing/production
"I predict a large portion of our client budgets will be devoted to creating, editing and distributing unique company content (blog posts, video interviews, photo albums, etc.). PR professionals will be expected to be savvy with several tools, from social networks to editing software (like Final Cut Pro and PhotoShop) to monitoring and analytics tools (like SM2, Sysomos and Radian6).  ."–Anne Buchanan, owner, Buchanan PR
Tip: "iMovie should be a standard skill that PR pros should be familiar with. Apple offers some great easy tutorials and of course free workshops at their stores for Mac owners. Baseline knowledge of Finalcut and even sound editing using Garage Band, even better."–Scott Meis, director, digital strategy, Weber Shandwick.
Resources: Tom Martin's 28 ways to use an iPhone for blog content (http://www.slideshare.net/conversedigital/28-ways-to-use-i-phone-for-blog-content)
3- Mobile
Quote: "In the next few years, PR professionals will (hopefully) embrace and start leveraging mobile as part of recommended strategy and daily work. To-date, I see too many poor examples of leveraging the medium (lazy slapping on QR codes, for example), and our PR peers not understanding the important nuance that mobile can add to campaigns today. Mobile should be a business driver, not a one-off add-on or neutered experience. Unfortunately, much like social media years back, it's my assumption the PR industry won't place importance on this channel until our clients start specifically asking for it."–Greg Swan, vice president of digital strategy, Weber Shandwick
Examples: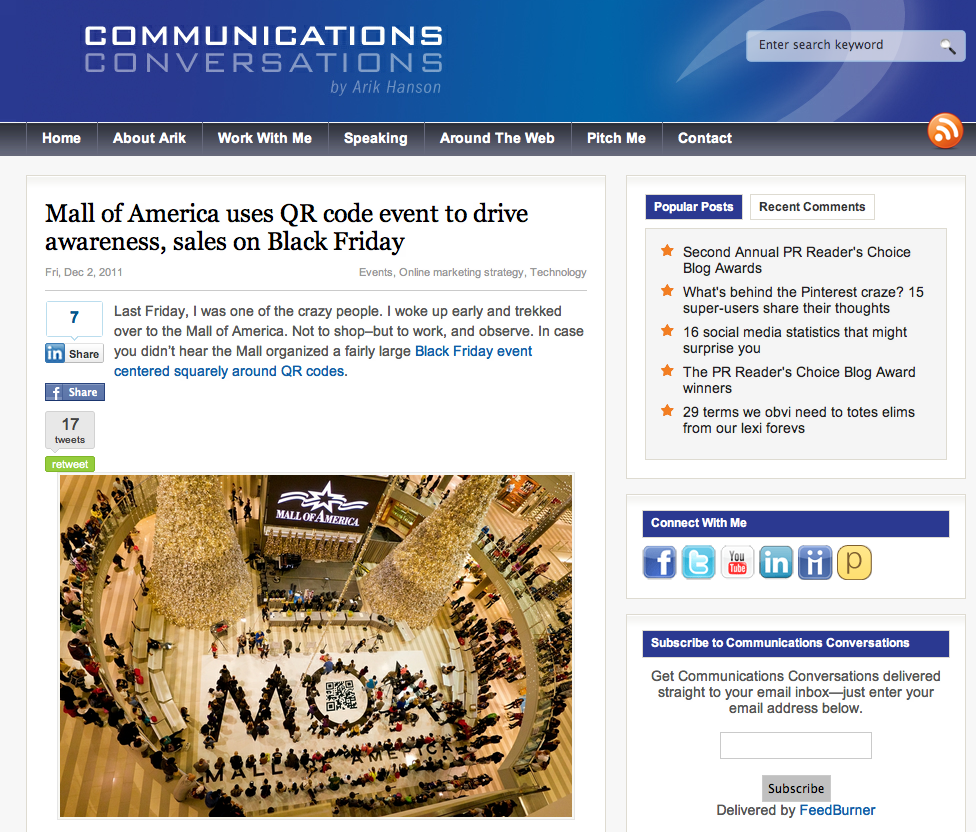 Tip: Always keep the customer experience in mind.
Resources: Follow @aaronstrout and @schneidermike–both great Location-Based Marketing experts. Or, if that's too hard, just buy their book, Location Based Marketing for Dummies.
4-Social content creation/curation
Quote: "One trend in PR? I think we'll begin to own the content piece of digital marketing. Right now, too many executives, marketers, and sales people own it, which creates more salesy content that doesn't go anywhere. PR pros, by nature, are storytellers and the content will begin to shift to those who know how to write engaging and valuable content."–Gini Dietrich, owner, Arment Dietrich
Examples: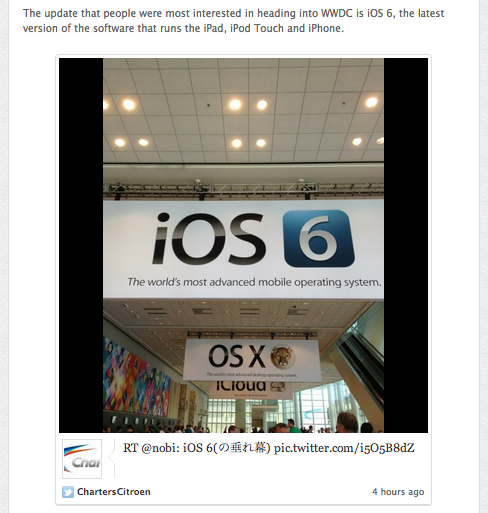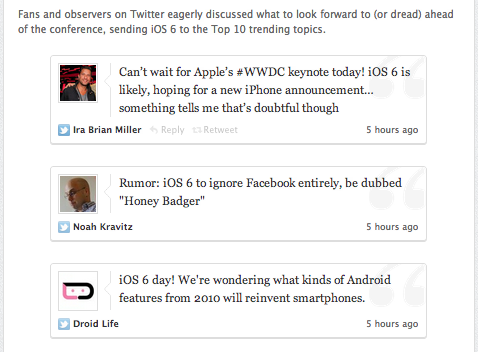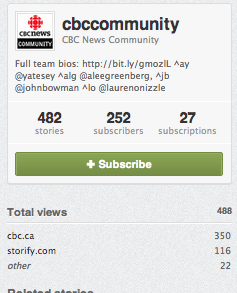 Tip: Focus on relevance/value–not brand.
Resources: Check out Joe Pulizzi's blog–full of great content ideas and strategies. I also think Shel Holtz has some interesting ideas around content curation–and he's also a big fan of Storify (which I love as a tool for brands).
5-Analytics
Quote: "The PR professional of tomorrow is faced with an unlimited source of data about their key audiences. It will be critical for the PR pro to be able to analyze large amounts of data pertaining to search behaviors, engagement patterns on Facebook and other social platforms and, most importantly, understand how to measure their contribution to the impact of a communications program and business objective(s). The time has long since passed where the PR pro can claim ignorance on how to gather, analyze and develop insights from data. There isn't an expectation that he/she will be a data analyst, but if he/she isn't comfortable working WITH a data analyst then they will be left behind."–Chuck Hemann, director of analytics, WCG
Examples: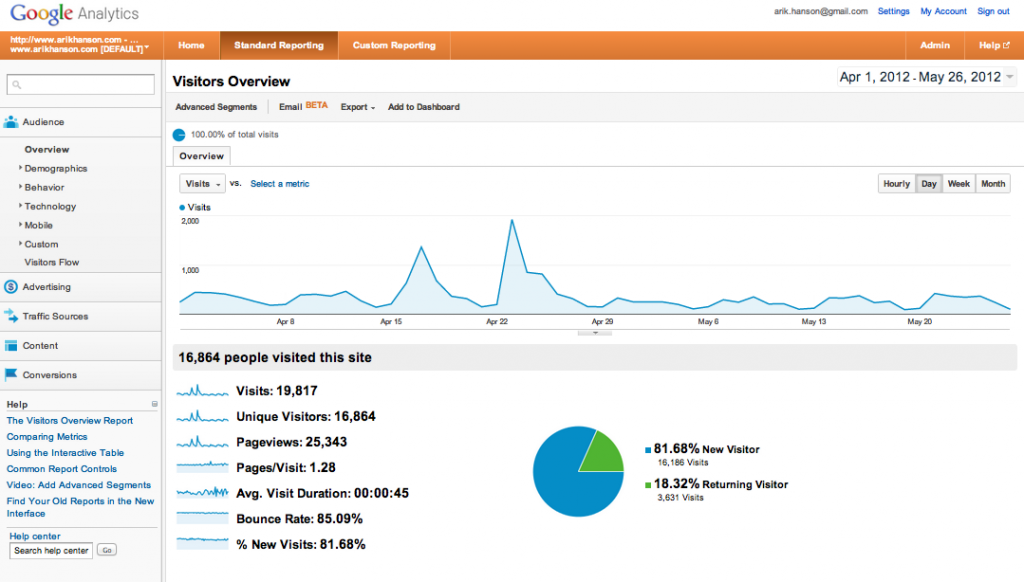 Tip: Don't let the tool run your campaign.
Resources: The Google Analytics blog and KD Paine's Measurement blog are must-reads for those looking to learn more about analytics.
6- SEO
Quote: "Unless they're trying to hide, PR pros must accelerate content discovery & distribution with social & SEO skills."–Lee Odden, blogger, author, owner, TopRankMarketing
Examples:
Tip: Don't let SEO take over your content.
Resources: Lee Odden's Online Marketing blog and SEOMoz are great resources if you're looking to learn more about SEO.
7-Speed to information
Quote: "It's a lot easier to anticipate opportunities and challenges when you're aware of them before your competition or detractors."–Len Kendall, Golin Harris
Examples: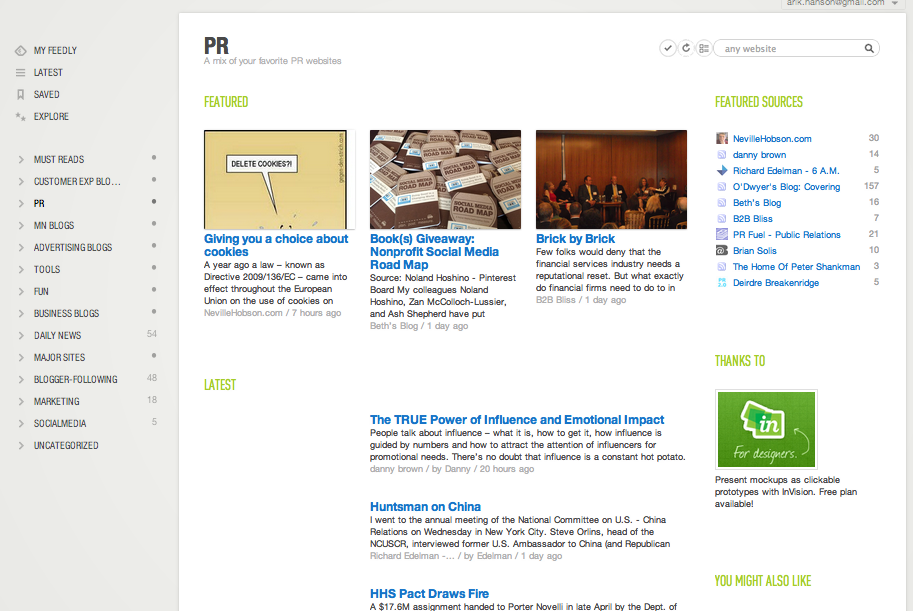 Tip: Develop a system–and practice!
Other tools: Diigo, Google Reader, Evernote, Instapaper
8-Programming skills
Quote: "The PR pro of the future (quite frankly, today) will definitely need to have a firm grasp of all the necessary tools to create, manage and analyze digital content. For example, the ability to manipulate code in a WordPress site or a content management system such as Buddy Media has quickly become a basic requirement."–Alex Tan, director, digital, Golin Harris
Examples: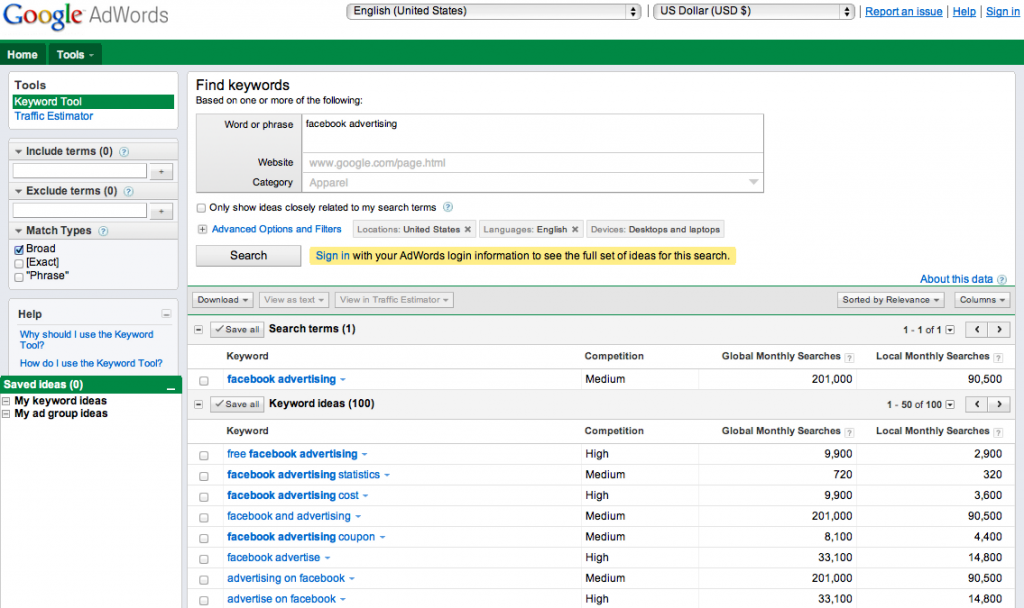 Tip: Don't be an expert–be a translator.
Resources: CodeAcademy.com is a great resource for the average PR pro looking to learn more about coding. You can get a lesson a week send to you each week for a year to get you started!
9-Managing virtual teams
Tip: Focus on results–not time in the office
Bonus tip: Equip teams with the right tools
Resources: Check out Workshifting.org for some great posts and tools to help you better manage virtual teams.
10-Blogger outreach
Quote: "In PR, one of our core roles is to help brands deliver the right message to the right audience. Media relations is one effective tool. But, a number of bloggers are also building strong readership in niche subject areas. If you're ignoring bloggers, I think you're doing a disservice to your clients. Pitching bloggers isn't the same as pitching other kinds of media; however, PR people need to understand how to innovate media-relations best practices and incorporate blogger outreach into their strategies. "–Heather Whaling, owner, Geben Communication
Examples: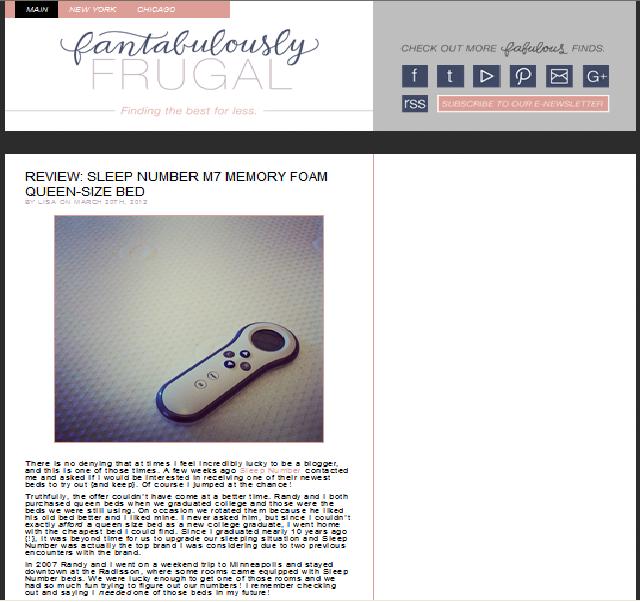 Tip: Resist the urge to sell right away
Resources: Heather Whaling's PRTini is one of the better and more forward-thinking blogs when it comes to blogger outreach strategies. Subscribe now.
That's it. 10 tips for tomorrow's PR pro. Did I miss anything?
Also, here's the full Prezi I presented from at the Puget Sound PRSA chapter conference earlier today.